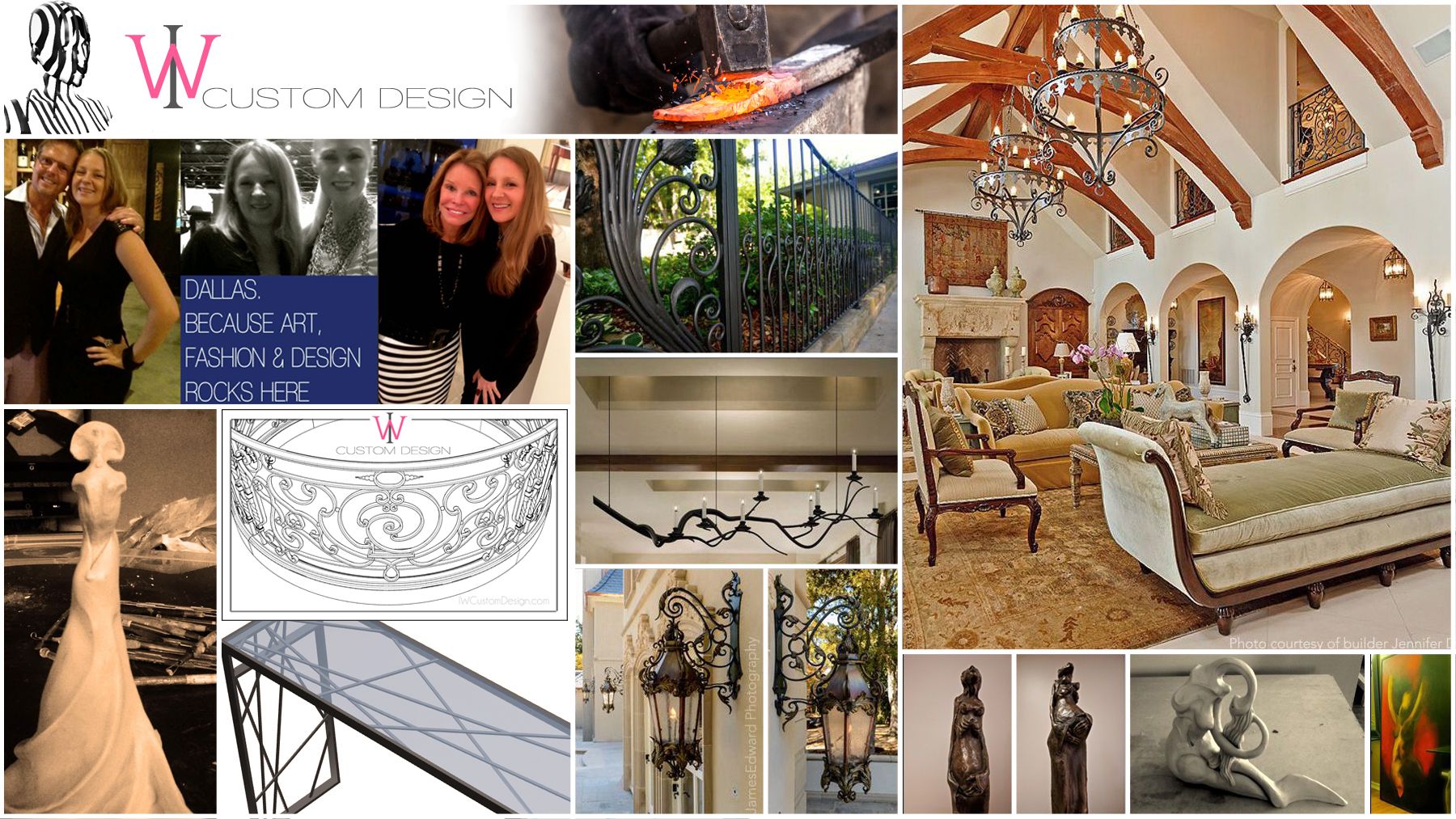 ---
About
From design to installation, or anything in-between, I make Mid-Range look High-End & High-End look beyond belief!  Hire me to design, or take care of your entire project. From ironwork to lighting, sculpture to painting... I even have a kid room wall prints line, why? Because life is too short not to do what you love to do:)
This is the home of Dallas' custom ironwork & lighting and your one stop to design, fabrication, and installation of ornamental metalwork, sculpture, and lighting. Dedicated to the creation of the highest quality of sculptural as well as architectural metalwork, where every client is treated with the upmost respect and can comfortably achieve anything from the simplest contemporary table base to their highest ornamental aspirations. Contact me, Izabela Wojcik, about your next custom project and don't forget to check out my recent projects & more.   Look for the grey I and a pink W.
---
Perspective
"Working with Izabela really isn't like having to work. She immediately understands what the designers are conceptualizing in their heads and hybrids it with her own creative genius, using her extraordinary sketching abilities to bring her imagination to the physical form for you and your client to see. She is very diversified in her areas and styles of expertise,never saying "I can't" and always brings a "let's make this happen and let's make it better than it's done before" attitude that will take your project from an idea to reality that is dictated by her craftsmanship and ingenuity." -Alana Villanueva   [Alana Villanueva Interior Design]
"Izabela is a great professional artist and designer!" -Beth Collier [President at vanCollier]
"In our creative industry the ability to illustrate and create a drawing that reflects perfectly what the end project will look like is truly a gift. Izabela's artistic ability coupled with her artistic eye to create the perfect application of an intricate iron work design to allow the client to see her vision is extraordinary and I have great respect for her work ethic and commitment to getting the job done in a timely and professional way. I highly recommend Izabela for any design project that someone has." -Brandi Renee Day  [Director of Interior Design / Brandi Renee Designs LLC]
"Izabela Wojcik's creative talent has met and even exceeded our design and fabrication expectations more than a few times. She has an amazing eye for detail and her craftsmanship is superb. The first time I worked with Izabela I found her to be professional, courteous and a true artist who loves what she does. Her works and concepts are beautiful like fine jewelry, they are emotionally moving and inspiring. If you are looking to commission any custom fabrication of metalwork, lighting or sculpture I highly recommend that you consider Izabela Wojcik for the job. Give her a call, she's definitely up to the challenge."  -Lamond Jack  [Xclusive Garage]
"Izabela is wonderful when it comes to problem solving with difficult projects. Very creative and easy to work with." -Sandra Prater [Sandra Prater Interiors]
"She is an outstanding member of the interior/exterior design fields...Appropriate in all ways...Able to make recommendations upon a design to provide a superior result. Top notch!" -Matthew Hunley  [Matthew R. Hunley Design and Design Consultant]
---
Skills
Product Design, Sketching, Designing to exact scale, Superimposing your projects into the plans or photos, Sculpting, Painting, Graphic Design, Adobe Illustrator, Adobe Photoshop, 3D software, Project Management (because we all want our projects to turn out well, but not all of us have the time to make sure the metalworkers are actually doing what we want them to do:), mold making, faux finishing, conceptualizing, and many more...  I have 10 years of ornamental ironwork and lighting experience and 20 years of experience in the fine arts, and most importantly, I am very intuitive.
---
Let's talk
© Izabela Wojcik   All Rights Reserved.
First things first:) My designs took time to create, sometimes I have to do research and all of this boils down to hours of hard work... they belong to me, Izabela Wojcik. They are to be used in the scope of the projects being worked on with me, Izabela Wojcik, otherwise disclosing, copying, distributing or taking any action in reliance on the contents of this information is strictly prohibited.  If you would like to use any of my designs in any other manner, please make arrangements with me, Izabela Wojcik.  Modification of the content all the information and and any of my designs is strictly prohibited. You do not have permission to use any of my (Izabela Wojcik) designs without written consent.  I will be happy to sell you my hard work or even design new pieces, which you can take to any metalworker or I can quote them for you as well; your choice.  I absolutely love custom projects of any kind really... I've acquired a lot of fun skills over the years and love to use them all... nothing better than scratching your head and figuring out exactly how something will be put together and accomplished.  P.S.: Notice that my name is spelled with a 'Z' and one 'L'... if you spell it with an 'S' or a double 'L', I will not get your emails in the future:)
---
Artists:
I have a Kuka robot... it can do what ever I want it to do and depending on what I hook up to it... as in, CNC milling (carving) your sculptures in large scale. I support artists, so I'm absolutely willing to let you use it for dirt cheap.  It can mill up to 8' tall, and of course if you're doing anything bigger, parts can be spliced together so that you can sculpt on top of what ever we mill out. Best way to use it: sculpt in small scale, sell to your client, have me mill out a large scale replica in Styrofoam with a layer taken off so that you can go back in a sculpt details back in. Take to a mold maker or foundry. Need mold materials? See my friend Mitch at BITY Mold Supply.
---
Propaganda
Watch Symphony of the Soil; solving food shortages, eat and grow organic, fix our soil | Watch this two minute short and find out more about how mushrooms can save the world; clean up our environment, help the bees | End Terrorism: small steps | Equality for all | Treat everyone with the humanity and respect you deserve | Help others and your world will be a happy one. | Do aerial yoga: it's good for you and makes you feel like a kid again | Take long walks in nature | Want free advice? Ask me:)
---
I support
---