© Izabela Wojcik   |   All Rights Reserved 
---
Day of Installation is always Exciting!: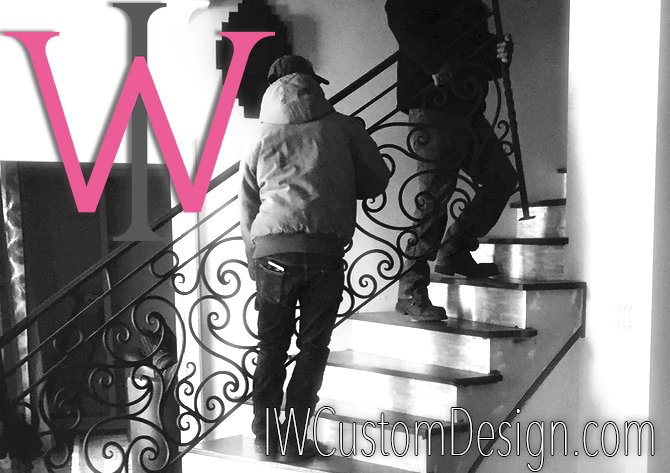 Installation days are always exciting! Yet another exquisite piece of 'jewelry' for a lovely Lakewood home and the first piece is in place!
Also, check out this gorgeous balcony I designed for a home in Fort Worth, Tx!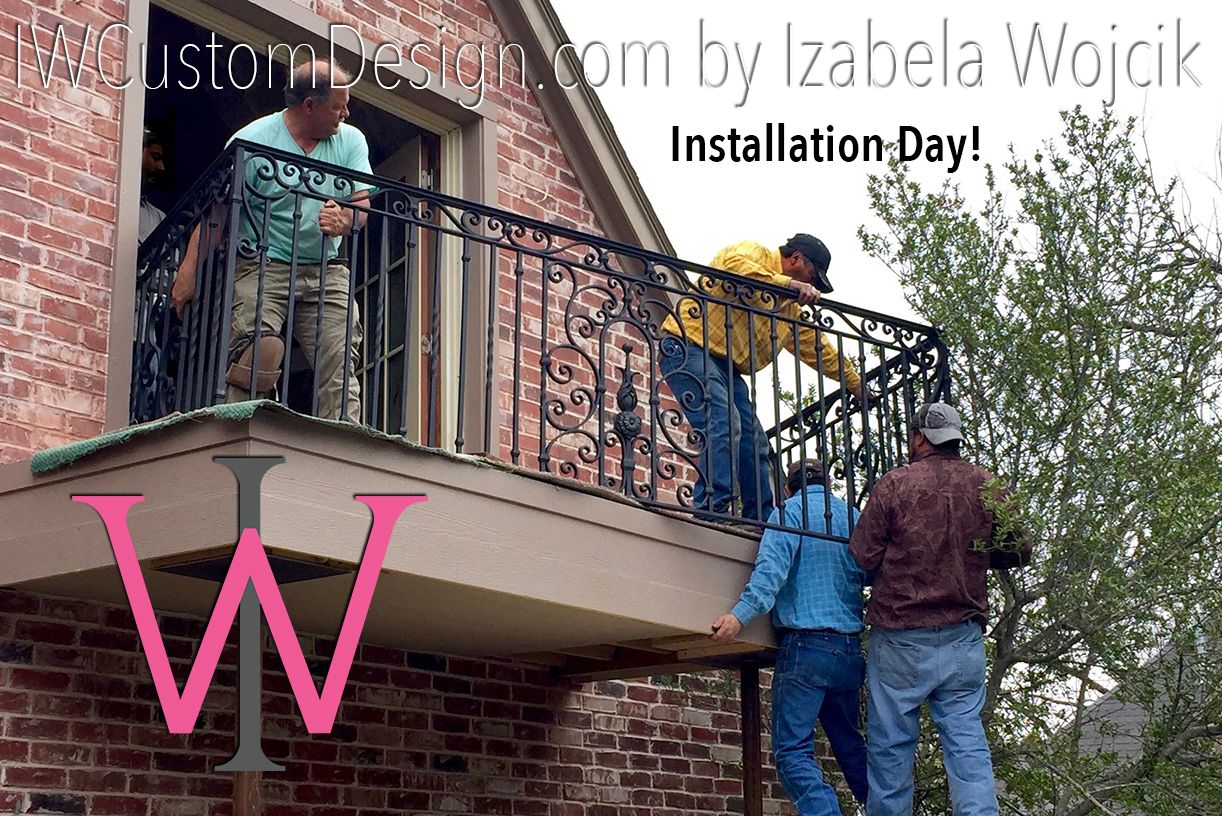 ---
Organic Shapes in Design:
There's a space between fine art and an object serving a utilitarian purpose; it's a place where pieces which carry an emotional sensibility are fused together with every day objects such as tables, chairs, sheds and light fixtures, a place dedicated to exploring the dynamics between natural and industrial elements... a place of creativity and awe.
Currently I am working on one of the most fantastic pieces in Dallas, Tx. I can't wait to show you this project when it's all done! It's going to be beyond gorgeous! Four more wrought iron tree sculptures and then the roof!
Eight columns wrapped by vines, spreading out towards the top, reaching out to support the roof which will be put in place near the end. Suddenly, sculpture becomes function.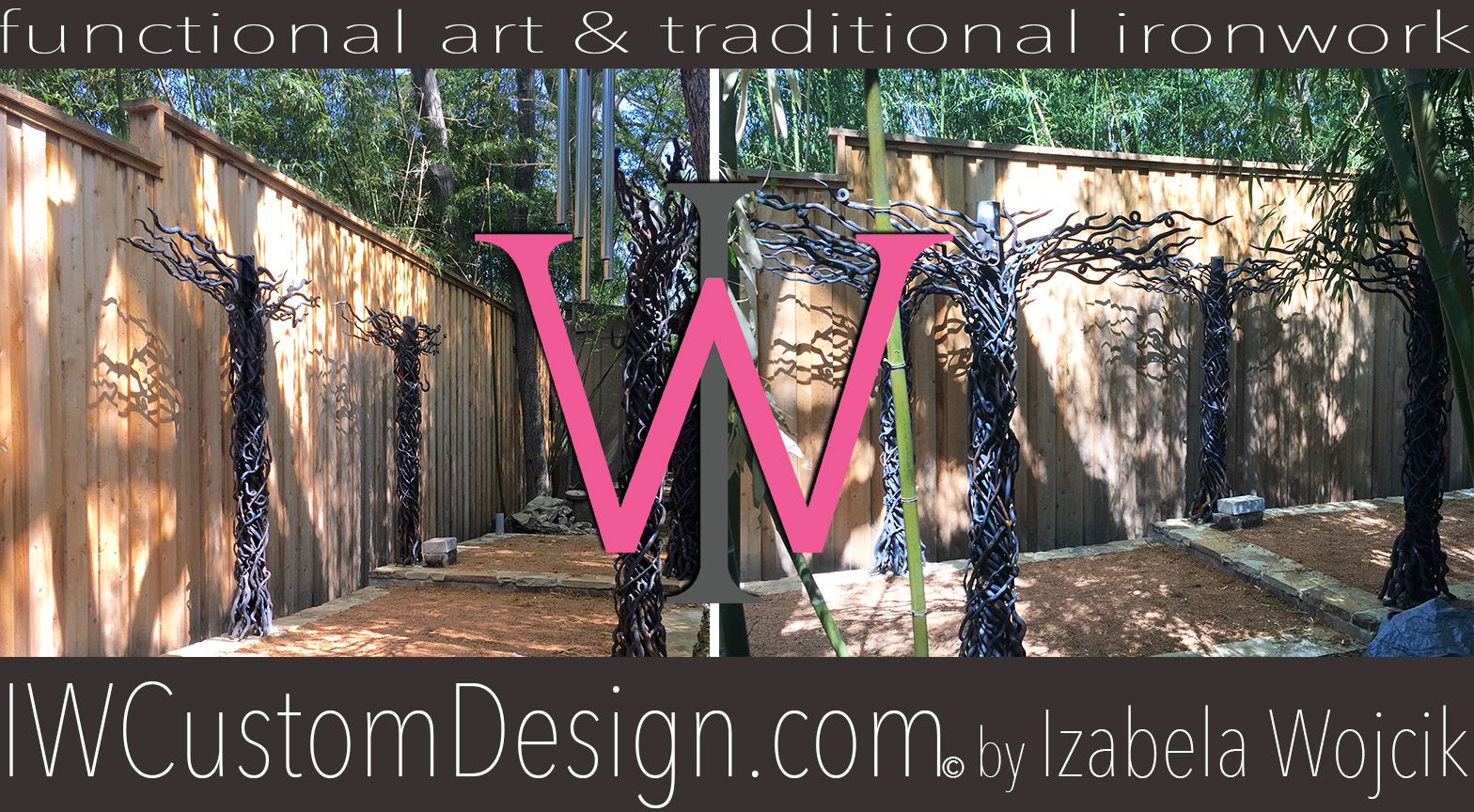 Imagine a simple piece of iron, textured into something which closely resembles a vine, which is then twisted until it becomes the very thing nature creates so freely on daily basis, yet this piece will not crumble into the ground, no, this piece will be here for generations to come.  The creation of such a piece is accomplished by heating long bars of metal, hand hammering the ends until they are forged out to a tip, then hammering in the texture. Depending on the length of the piece, it takes up to three blacksmiths to manipulate each "vine" so that it matches the design I created for them to follow.

Any piece of art can be transformed into a functional piece like this wrought iron walk gate, so if organic shapes are your thing, I can design exactly what you are looking for and the guys will be ecstatic to have such a fun project to work on.  I designed this custom gate for a client in Dallas, whose property is adorned with some of the most spectacular metalwork and sculpture; this is a lovely addition. It's always fun to do something out of the ordinary:) The iron will continue rusting until a heavy layer of rust forms and basically seals in the metal.  This way, upkeep on the finish won't really be an issue in the future.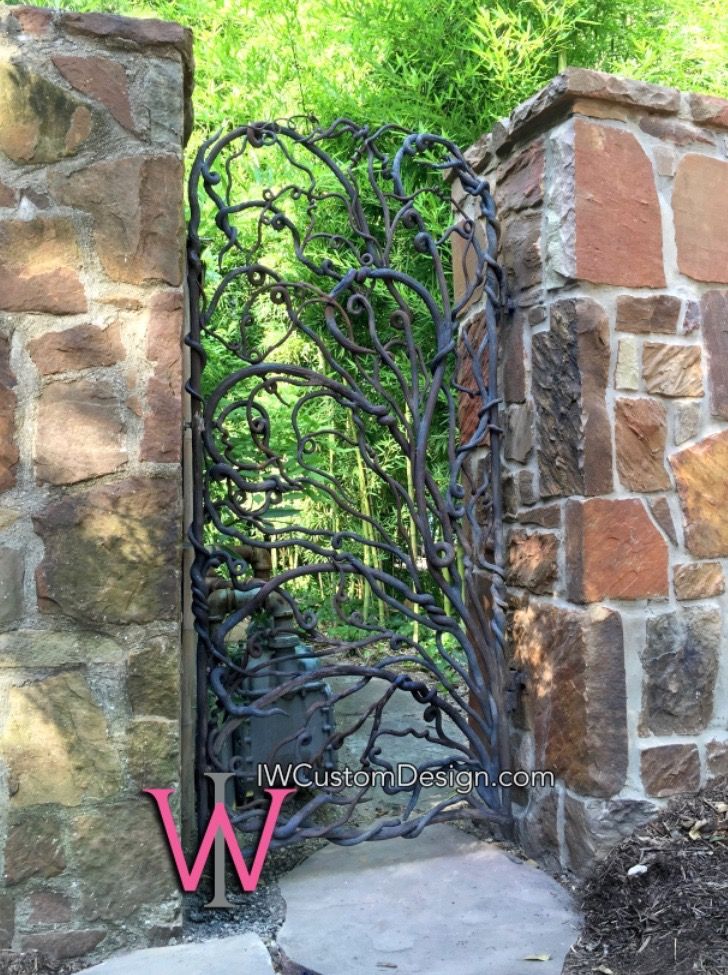 Progress photo: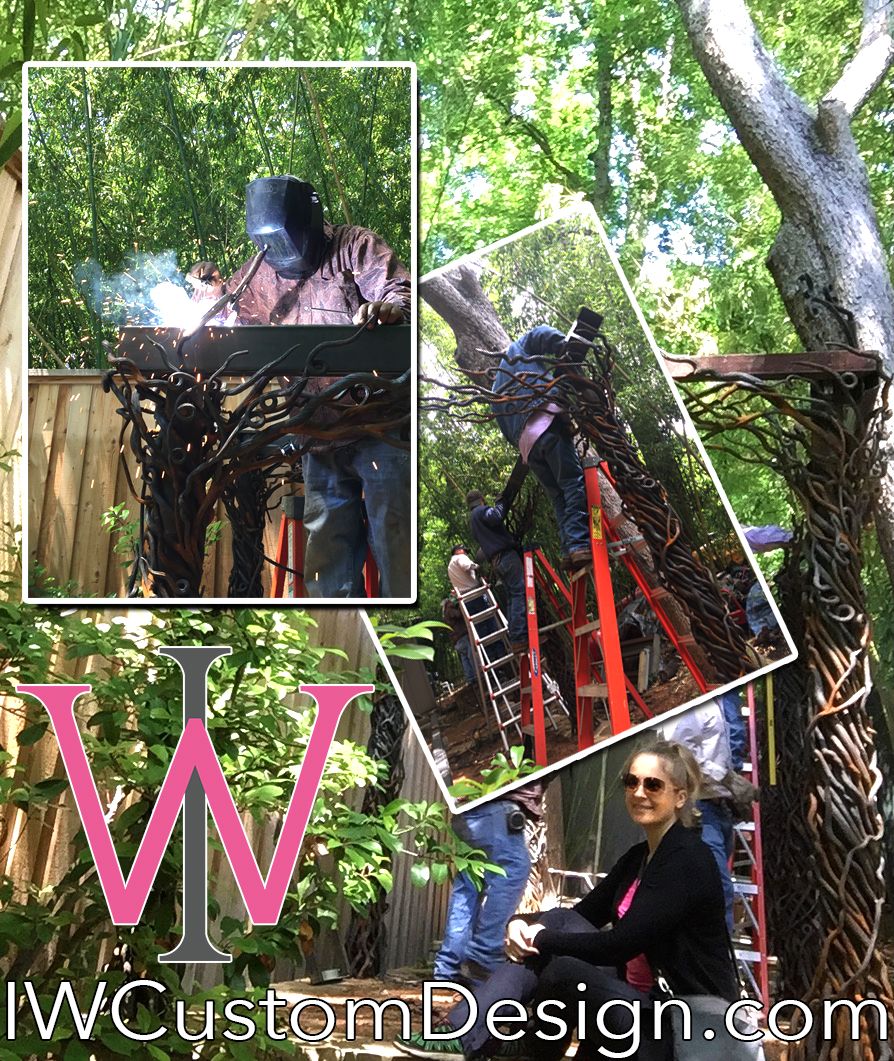 ---
Hotels love metalwork:
Interior designers love to add touches of metalwork in their hotel plans and working on a hospitality project is quite interesting.  There are lots of cooks in the kitchen who must juggle a whole lot of information in order to make the project happen.  I truly have the upmost respect for all the titles involved in bringing a hotel design to reality:)  Here is a photo of custom made decorative screens in their almost final finish stage for a hotel in Houston.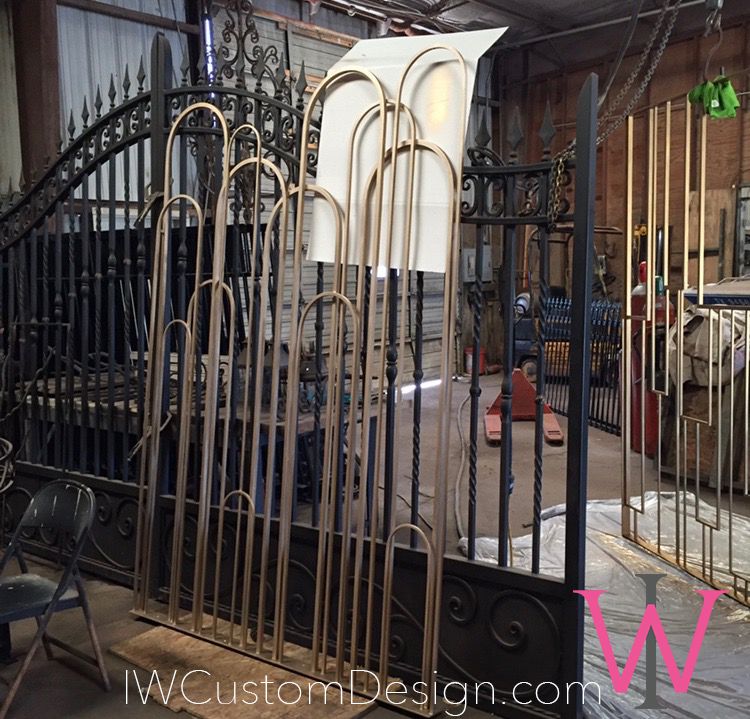 If you're ever in Houston, book a night or two at the Marriott Marquis Hotel... The custom decorative screens for the presidential suites are in! Here is one of the designs Looney and Associates asked for... don't they look great? :)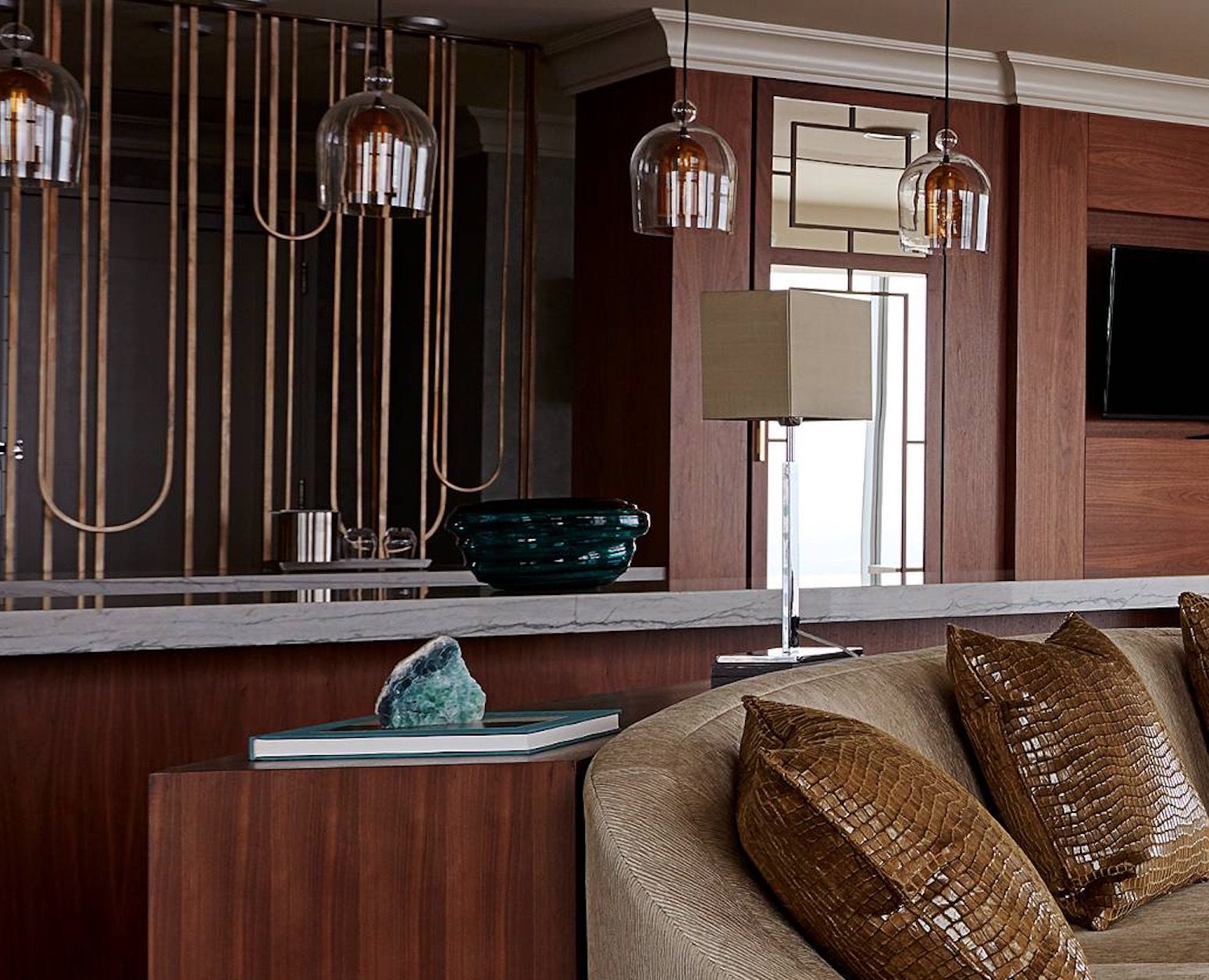 ---
Humpty Dumpty got put back together again!
Just because something broke, does not mean that it can't be fixed:)  The Cloisters and deeper/Lakewood area have some pretty impressive ironwork from the 30's etc... Take a look at how badly this White Rock Lake neighborhood in Dallas, Tx. drive gate was mangled by a falling tree.  Below is the after!  A little (just kidding, a lot) of elbow grease and anything can be repaired!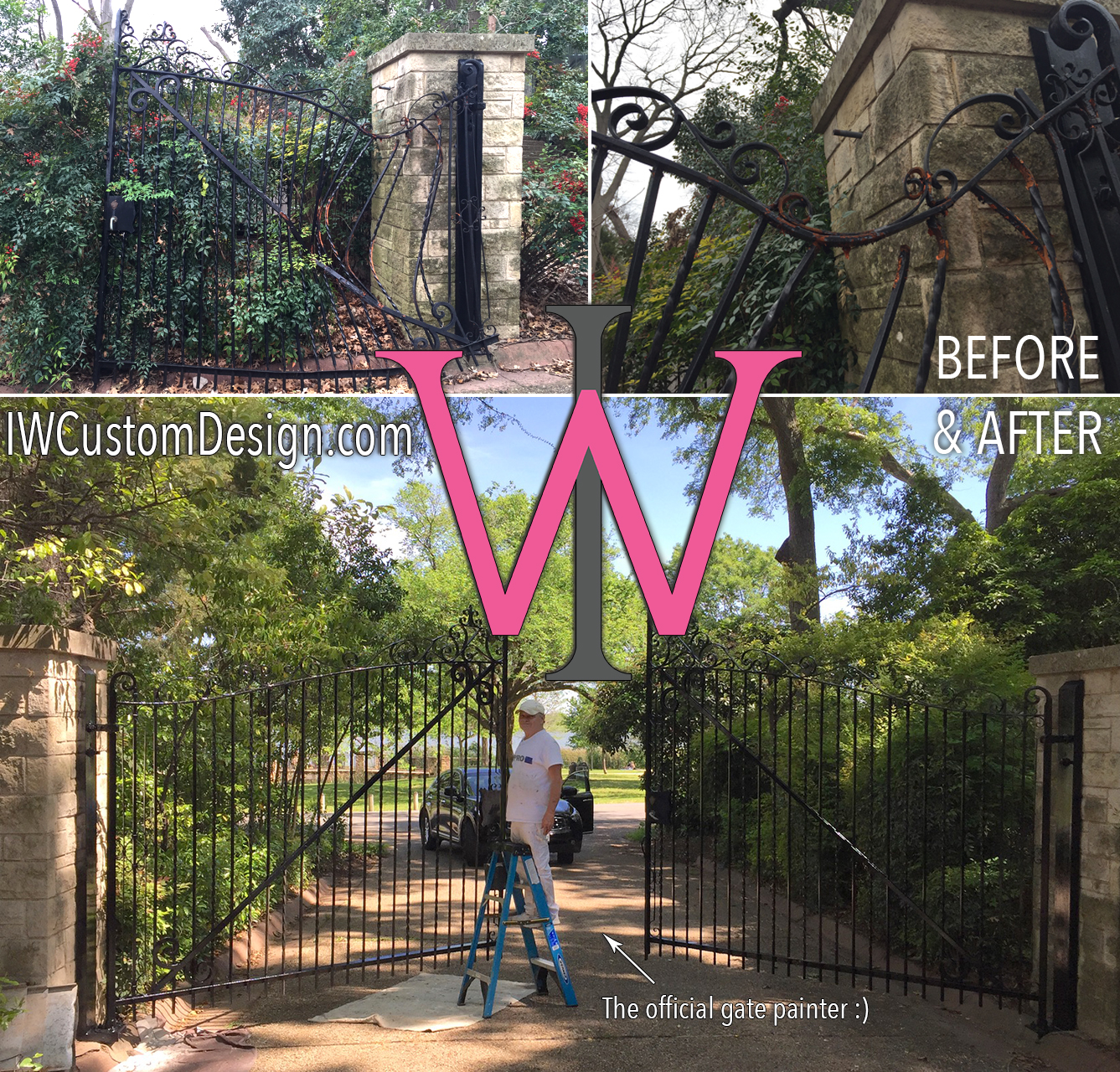 ---
A night to remember...
What a wonderful day this was... a mix of music, magic, cirque arts, paintings, sculpture, photography and great friends:)

A few other pieces I painted:
The one on the right is mine... it's called Angel Over Water.  I donated this piece to Greg Brown, the program director at the Dallas Center of Architecture, to use it for a fantastically good cause called Rockitecture!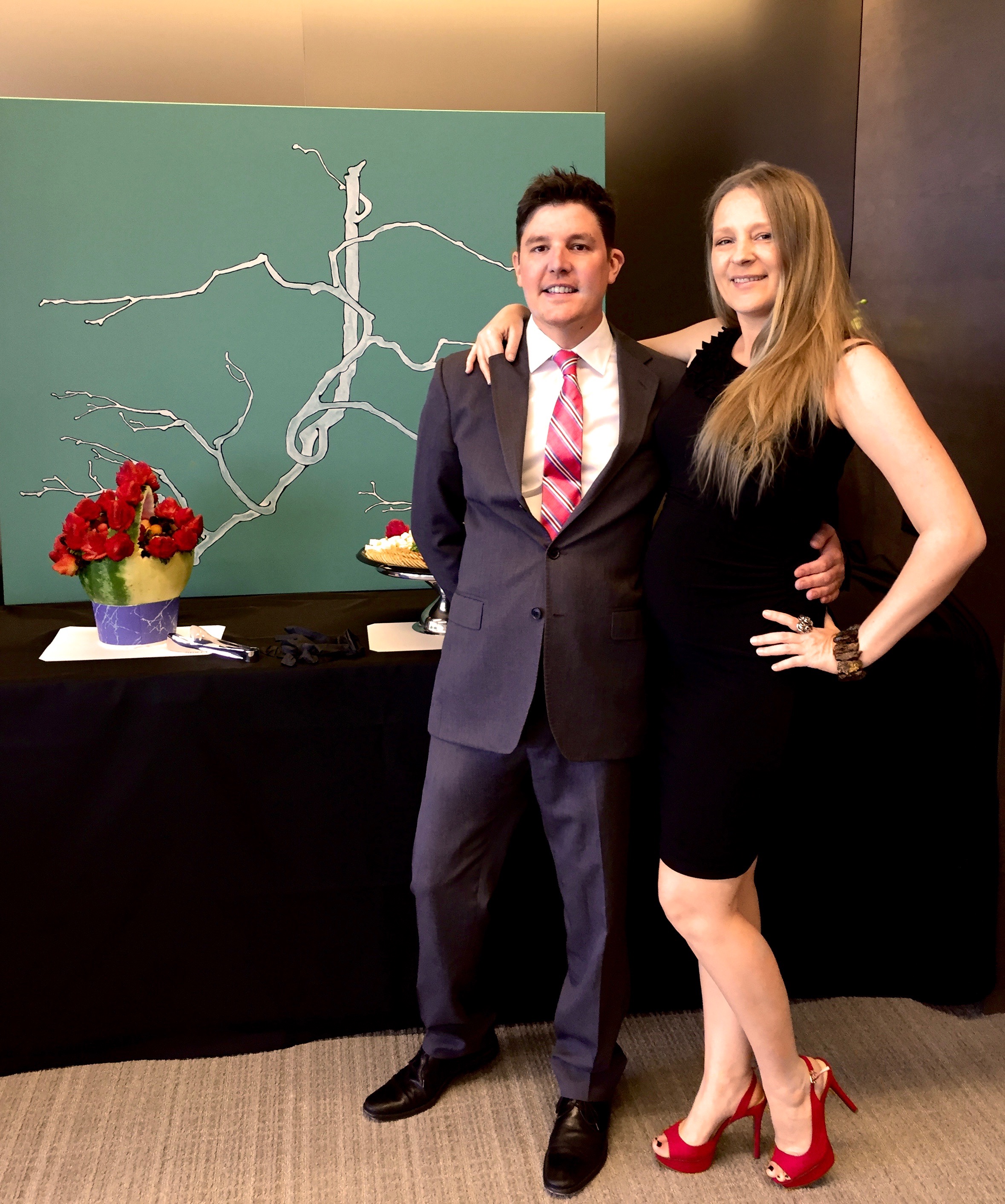 My friend David Dummer and I next to one of my paintings:) 
---
Secret #1:
Because sometimes we don't have the budget of a luxury custom home owner, builder, or interior designer, but still want our coffee table to look like a piece of jewelry for the home, here's secret number one...
There are many different ways you can save money on custom ironwork and still get a beautiful product.
The table I posted below is just as pretty as second one in the lineup, yet because of the finish and the way it's put together, you could potentially end up with a fabulous coffee table and a treat on top of that.
 Okay, now you owe me a fabulous latte with 2 inches of foam:)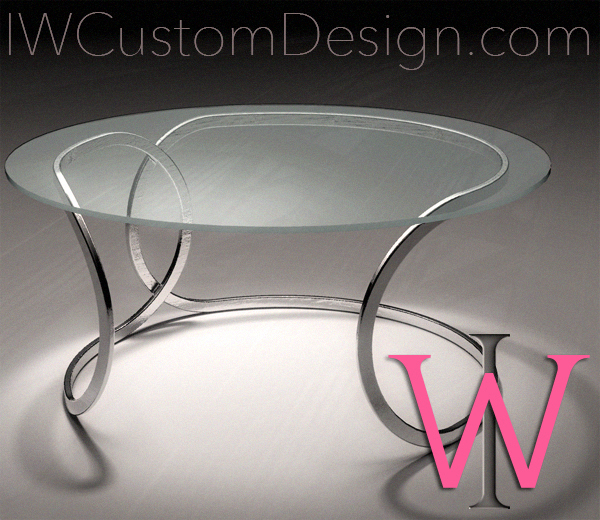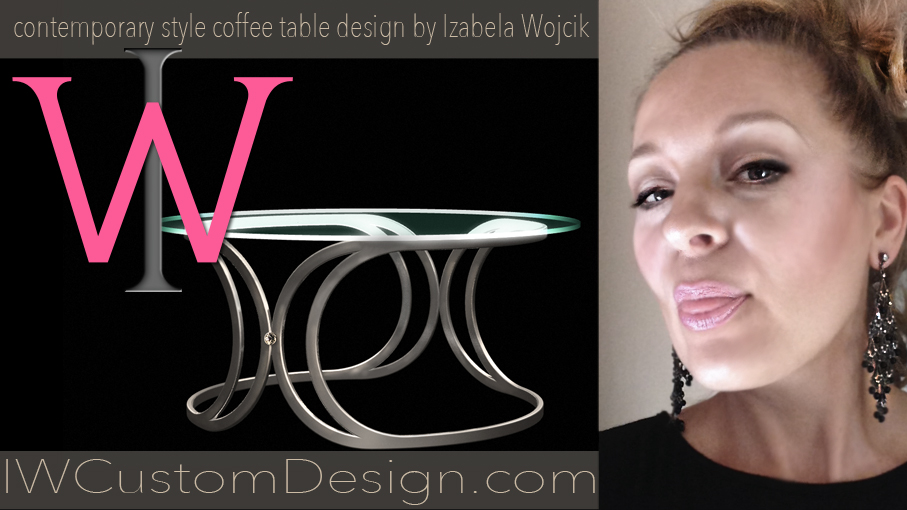 ---
Talking about finishes...
A texture can make a huge difference in the way your custom coffee table will look, same goes for the finish, and even the material used.  Here's the same exact design; one being a hand forged wrought iron piece with a heavy texture, while the other is a brushed bronze piece.  See what I mean?  A contemporary design can have two totally different looks just by changing a few things around:)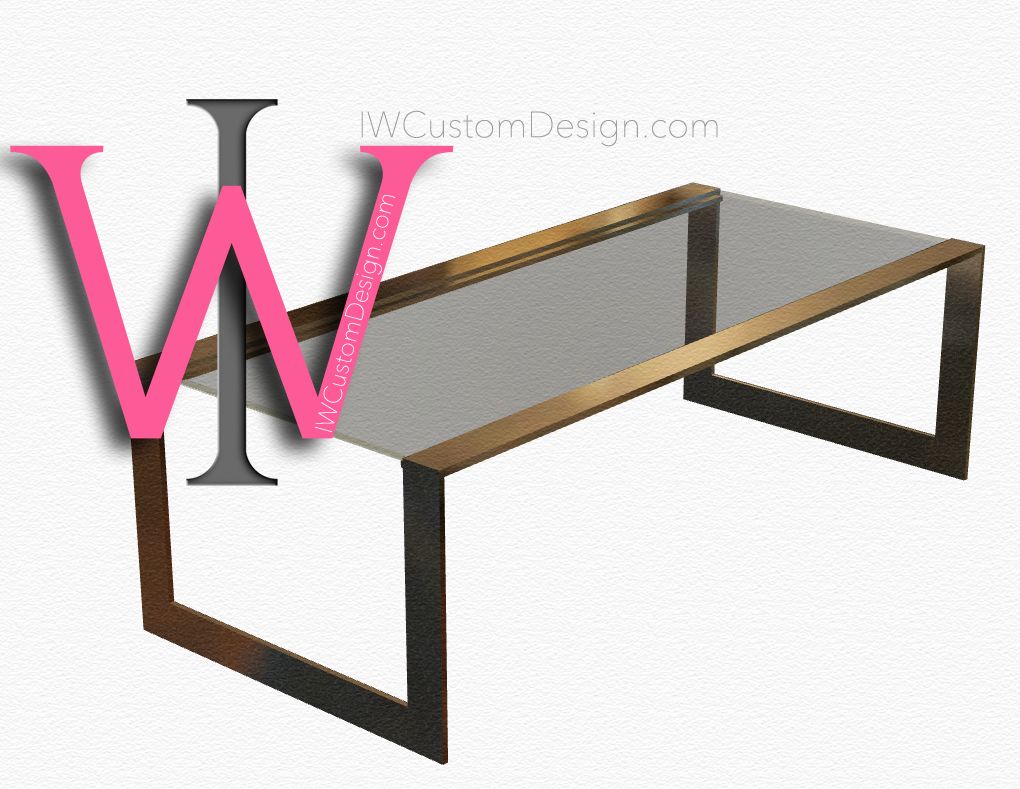 And then we can go one step further... check this out... antique brass finish with extra pizzazz...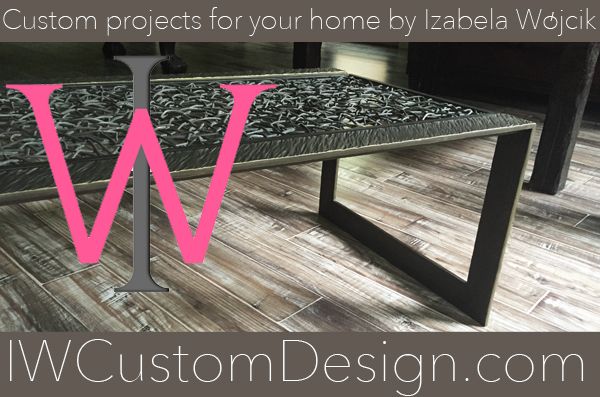 ---
That moment when it's all about to come together...
I absolutely love that moment when all the hand forged scrolls are being fitted into the curve of a railing.... a few more here, and one more there, and we're ready for grinding, then the finish and finally, installation time:)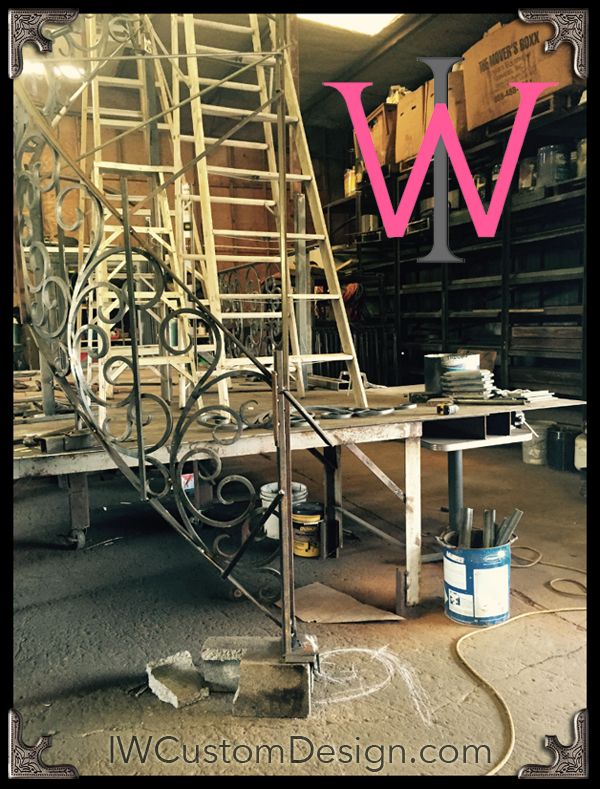 And all this from a simple idea, translated into a drawing... the railing is supposed to match the existing door of the home in Cedar Hill, TX.  It would be very easy to simply take the design, turn it and fit it into the height of the rail... except that this is not how it works in real life... in real life there are codes, rules, regulations, and aesthetics.  In real life if a 4" ball passes through any of the openings in the design, your project just went out the window.  So a bit of thinking, a few broken pencil ends later, and I think the design fit just right.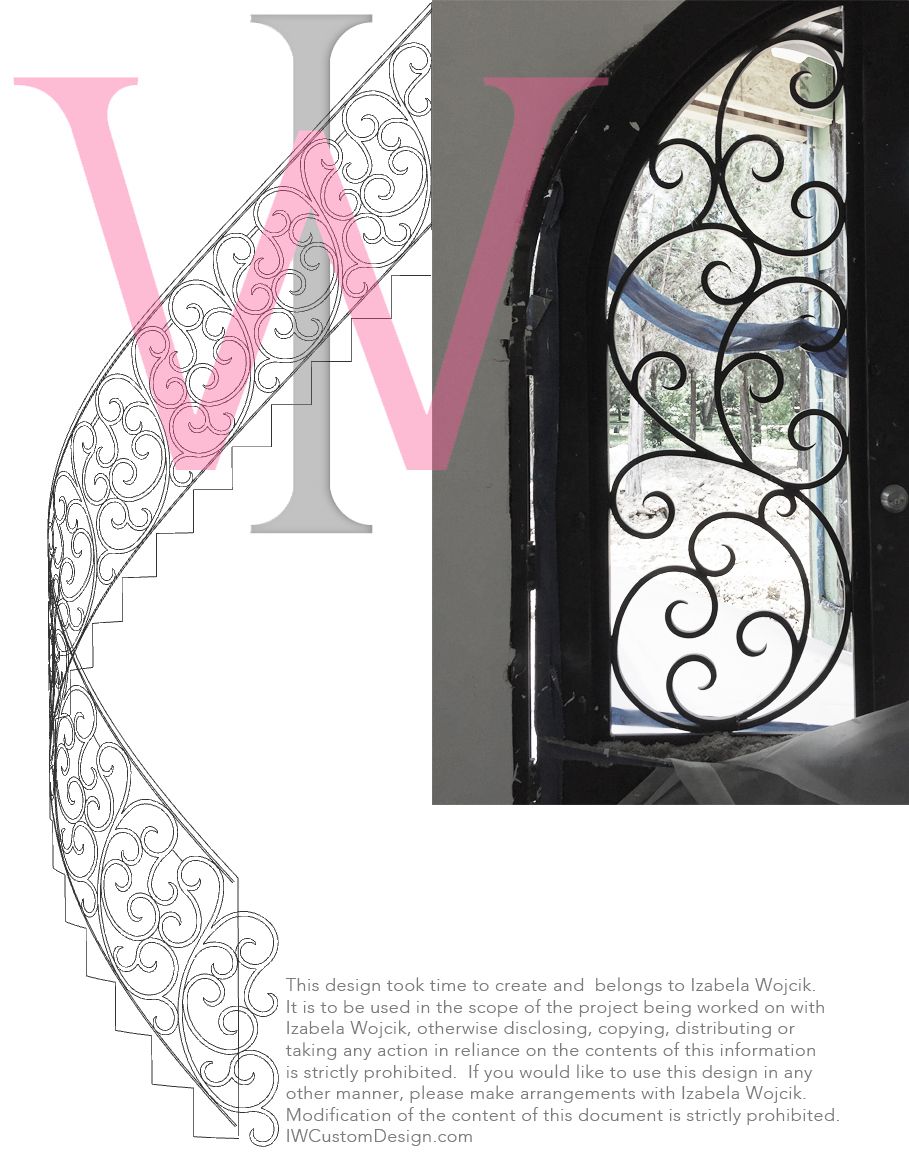 ---
Might be time to go custom!
Who here has been looking for a fancy wrought iron dining room table? Searching garage sales and shops for antiques all day long? Dallas, Fort Worth, and New York? For the sake of Interior Design and your health, it just might be time to go CUSTOM! :)
French, Spanish, Contemporary, Modern, Mediterranean, Traditional, Transitional, fitting 6, 8, 10, 12, 14 dining room chairs... what ever your little heart requires:)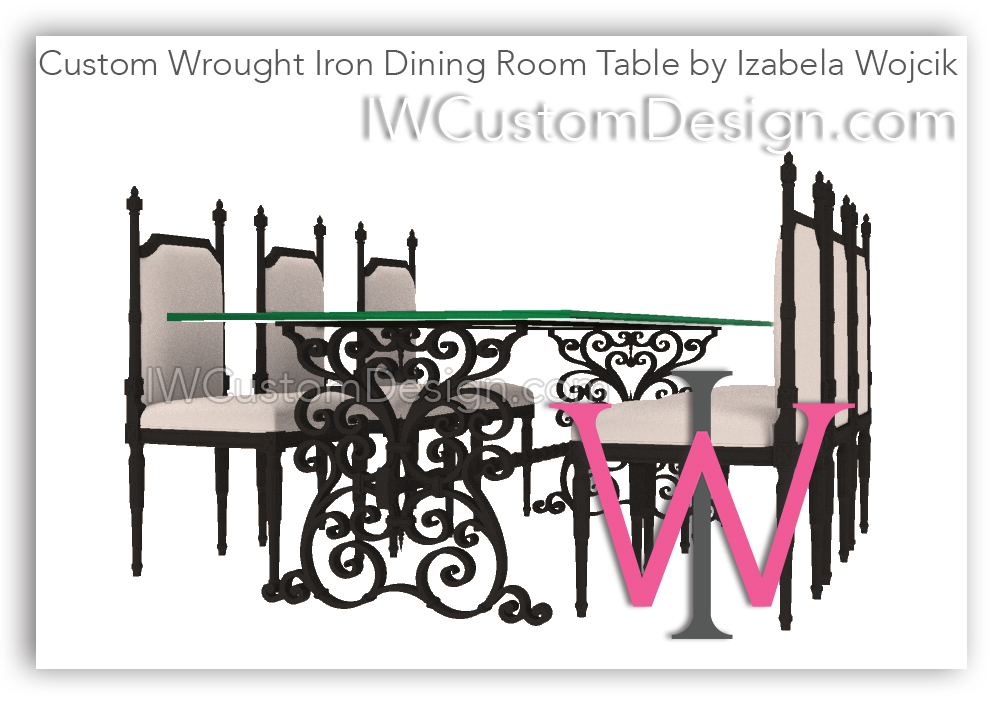 ---
A series of misfortunate events, plus one happy ending...
A series of misfortunate events led me to finally see one of the most interesting designs I've ever committed to paper:)
By the time this project was completed, I had left Potter Art Metal, where (trivia) I was the only designer for 8 years, and so I never did get to see the lanterns and walk gate installed... you know, the complete package:) ...but because the drive gate automation started acting up, and Potter had closed doors by then, Melissa actually found me to ask for help so I finally got to see the entire project in its full glory!
This one is very special to me because there is an amazing story behind it.
Melissa and her mom had a very specific vision and had been looking for someone to execute it for quite a long time... no one was able to translate it into an actual design they both loved... but the day we met, all was settled!
The huge wrought iron drive gate was to look like the oak trees on the property, the stars on the bottom signified the generations who lived on the Texas land, and there are lots of other details as well, including cotton boles and a secret inscription. EVERYTHING on this gate is a part of the family history.
The little walk gate has a gorgeous hand forged rose climbing the ironwork, and the lanterns are adorned with oak leaves.
LOVE, LOVE, LOVE! Plus, I got to say hi to the horses:)
What a day!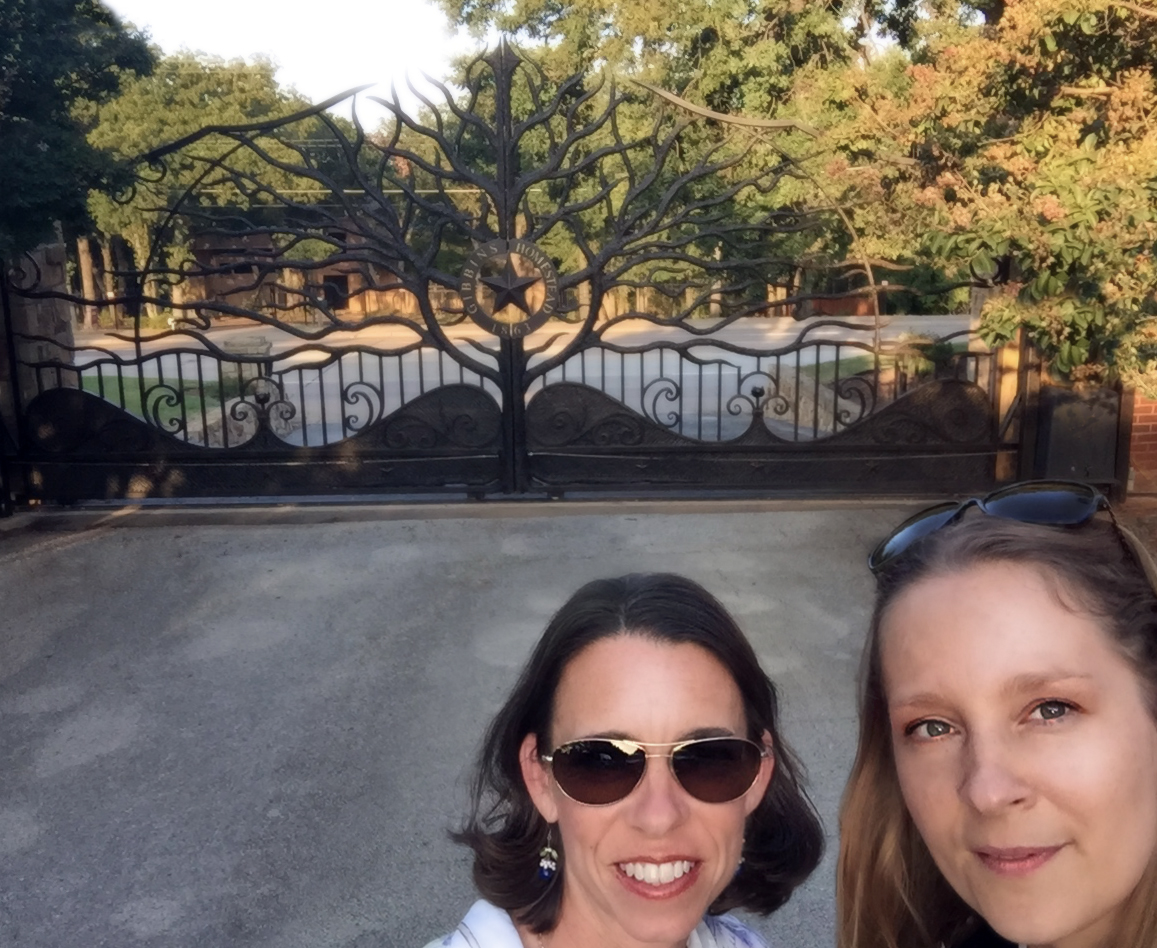 Selfie time! and in the background... the star of the show... wrought iron drive gate... beyond the ordinary custom work!  In all seriousness, this is one of the most spectacular pieces I've ever designed and it's certainly one-of-a-kind.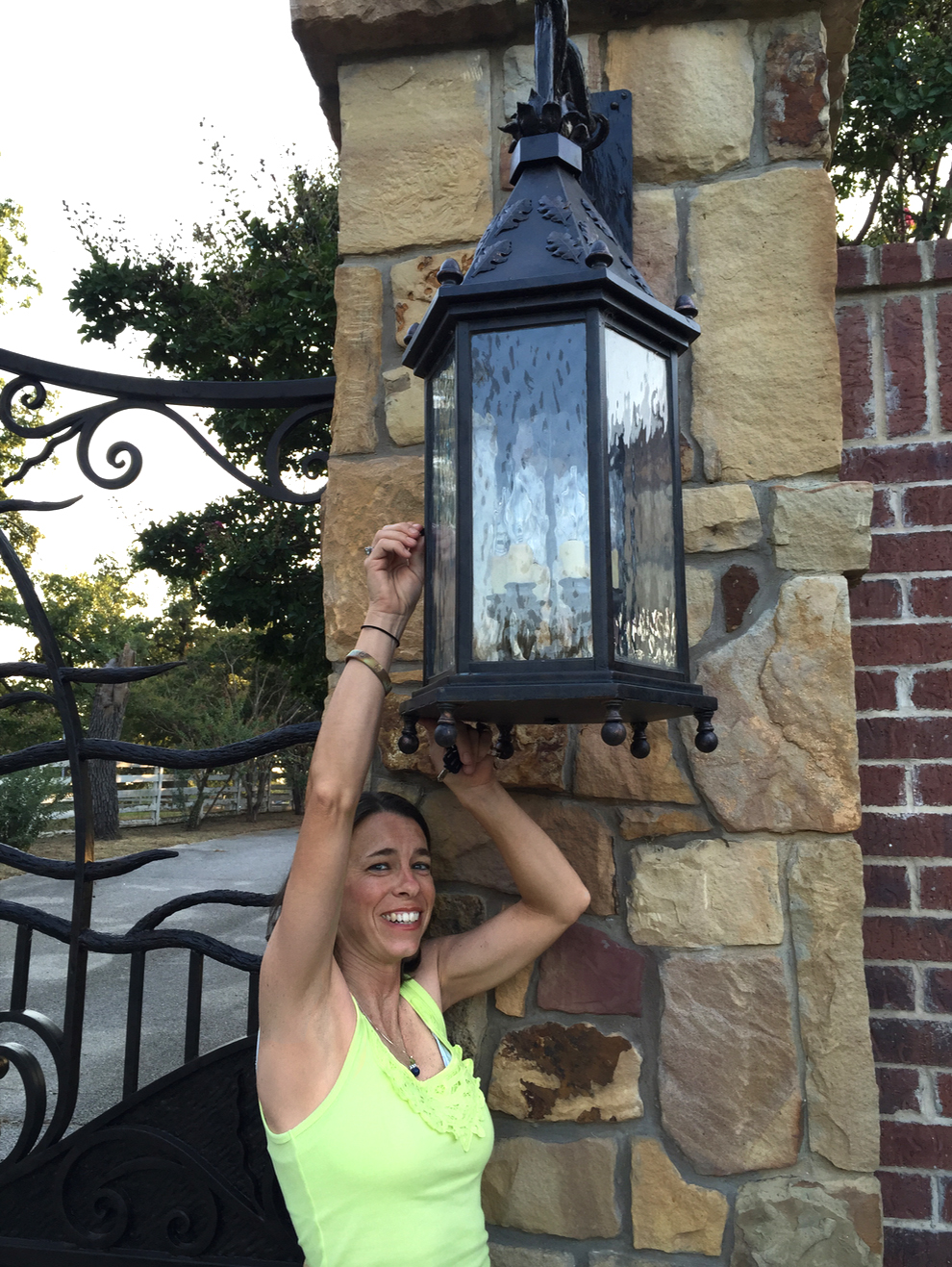 I think the oak leaf lantern is bigger than Melissa:)
Beautiful little wrought iron walk gate with a metal rose climbing up the ironwork, plus super cute branch levers. The thing about custom design and then creation of the pieces is that anything can be accomplished:)
---
Dallas has gone contemporary crazy...

Everyone's going custom contemporary lately; clean lines, clean lines everywhere!   Here's a rail we recently put in a Dallas home.
...and below is what it looked like before... huge difference when a wooden railing is replaced with a wrought iron one... I especially like how the wall rail now looks now... nothing better than a custom fit.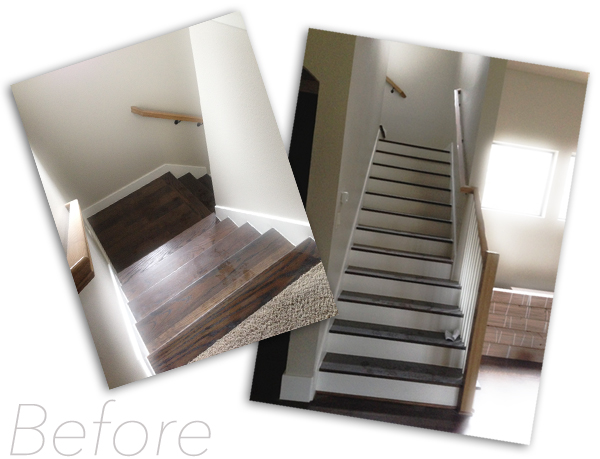 ---
The most special of projects...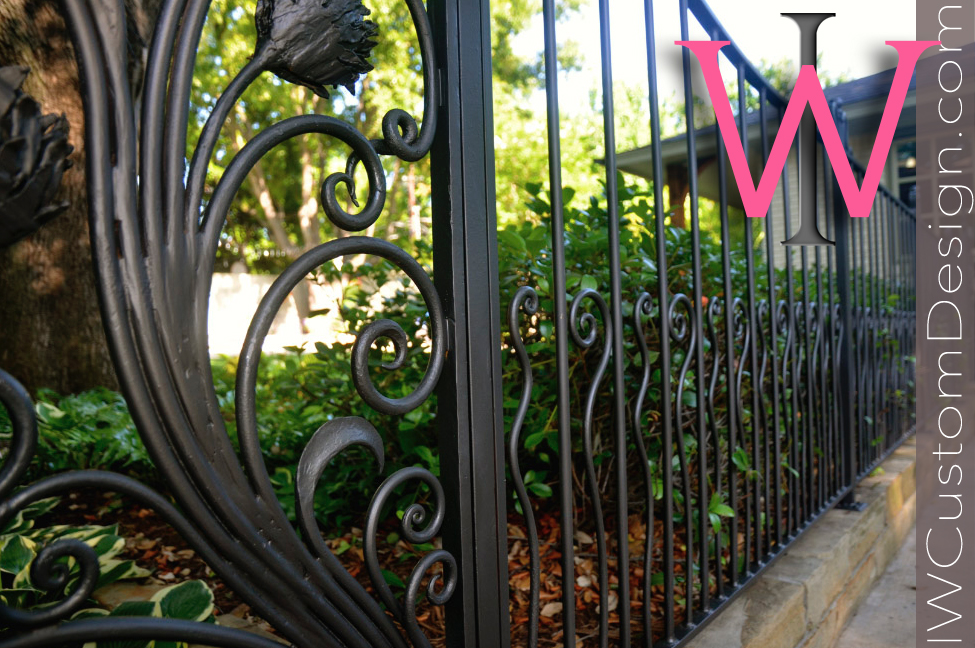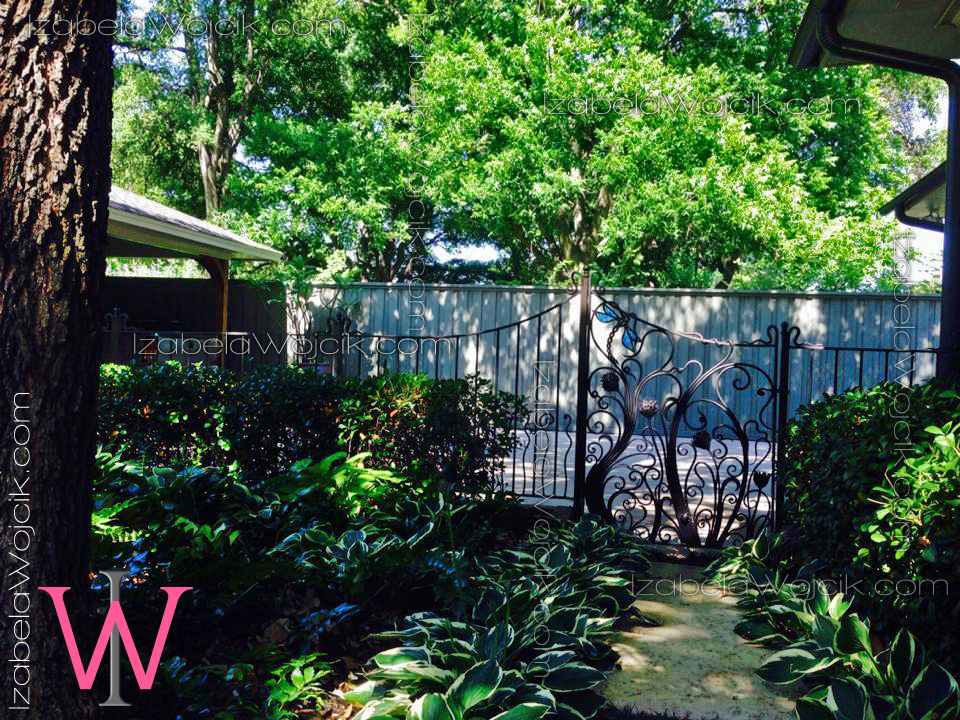 I've had my artwork displayed at the Dallas Museum of Art, aka the DMA.  I've had art printed in books.  I've designed the most awesome fireplace mantel on planet earth for Trammell S. Crow... (you know, as in The Crow Collection of Asian Art in Dallas?,) I've designed the most fabulous metalwork for the Hunt Oil Building in downtown Dallas,  and have worked with some of the most fascinating people in the business.... however...
The most special project of them all is a little organic garden enclosure.  Why? Because I designed this adorable little garden gate and matching fence for my 5th grade teacher.  Oh yes! White Rock Elementary in Dallas, TX!  Believe it or not:)
Imagine this, you're sitting at a table, a client drops by, you know you've seen those eyes somewhere before, but you're not sure where... you have a short chat about what this particular client needs, and suddenly this client is asking you a few personal questions...  And out of no where: "Did you go to White Rock Elementary School?"  She remembered me from 5th grade... and then said: "Wait till I tell my husband."  I was like, well, your husband most definitely won't know who I am... and the answer to that? "Oh yes he will."  ...and he did!
The custom designs were hand forged and feature scrolled "grasses", milk thistles, and dragonflies whose wings are see through and painted with periwinkle blue glass paint.
---
Ever noticed that wrought iron gates and fences are always spectacular...
Simple or fancy, French or Mediterranean, there's just something special about wrought iron and what can be done with it.  Here are a few the guys are currently working on...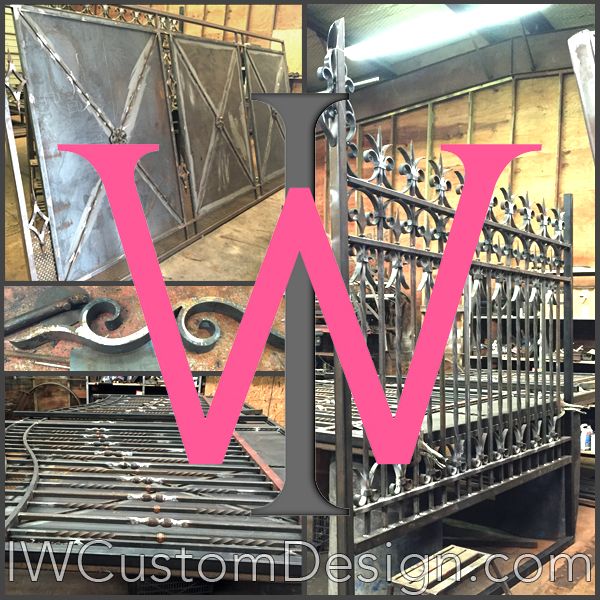 And as long as we're talking about work in progress... aren't these the most adorable lanterns? Loving the little acanthus leaf on the roof... so cute!  PS: When it comes to gas lanterns, go with copper or brass... steel holds the heat and eventually rusts out...  You're welcome! :)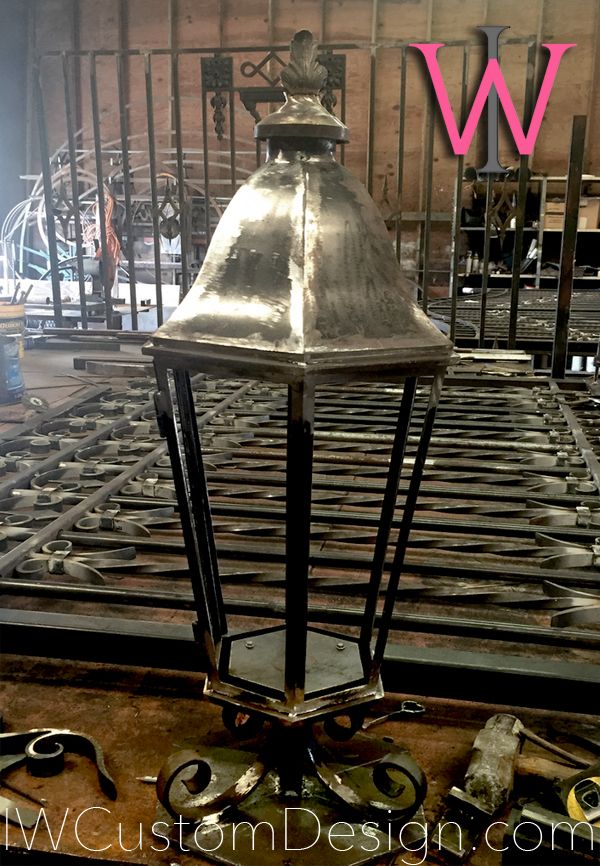 If you take a closer look at the piece on the table... what a great, super fancy, fence design:)
And talk about lantern designs... sometimes a client is inspired by an existing lantern, which was inspired by some antique, and so now I'm inspired by what the client wants... and that's how the world keeps revolving...  Here's a fun short video of a lantern design in progress...
---
From concept to reality:
I design in different ways, depending on what's best for each project.  Sometimes it's a quick sketch, sometimes it's a 2D computer drafted design, sometimes it's an elaborate sketch, other times it's merging and manipulating photographs or drawings... One of my favorite things however, is my 3D program; I love it!  The greatest thing about working in three dimensions is that I basically get to build the piece as I see it in my mind before I actually build it and it's to the exact scale as it will be in reality, plus, I can view it from all angles. Now, I might change a few things between one and the other, but it basically looks the same. Here's a great little video I put together of a railing I designed in 3D... you can see me moving it around my screen to view it from different angles.
Here's an idea I had for an awesome console table.  A quick sketch establishes the concept... it doesn't have to be elaborate... call it a stick figure of a table, but it does give you enough to start thinking of the size of the table and materials you will use in the construction of the piece.  Then it's time to realize the piece in actual scale so that the blacksmiths will build what you had in mind, otherwise, their idea of what you drew might will most likely come out totally differently than what your vision was.  There are blacksmiths who can read your mind, and you can read theirs... those are the special ones... the ones who are more than blacksmiths... those are the artisans and they are very hard to find... yet even those need something to work from because they are blacksmiths, not designers.  When they have done a chandelier, over and over again, they will build perfectly, but if you ask them to come up with a brand new concept, it's another story.  It's kind of if you asked me to forge something... I can build it in virtual reality, but I am not a blacksmith and could not do what they do.
Take a look at the original sketch... can you tell me what material sizes you will use to make this table base happen? Do you know what radius you will use for the curves?  How high off the ground to create the decorative bends?  What would happen if you used 3/4 square instead of 1"x1/2"?  It would be an absolutely different piece... this is why these things matter:)  Use the wrong material sizes and it will look like a cartoon, use the correct sizes and it will be sophisticated... that's the difference material sizes can make.
In the world of 3D, you can make your "mistakes" ahead of time, you'll figure out better ways to do it before you actually do it, and you'll end up with exactly what you want instead of wishing later you could have done something a little bit better:)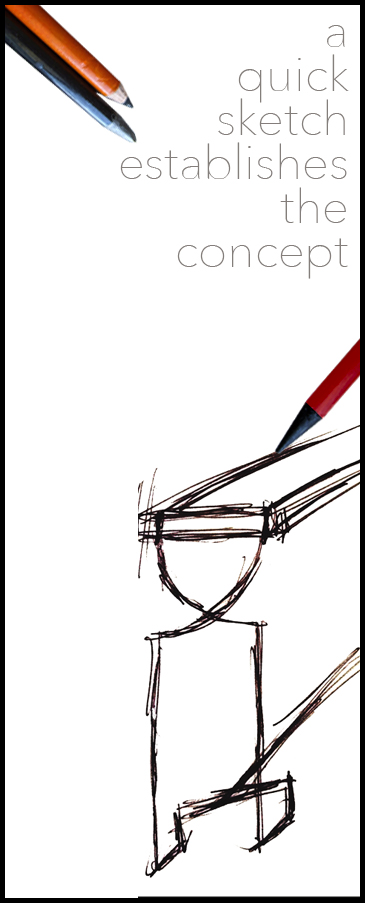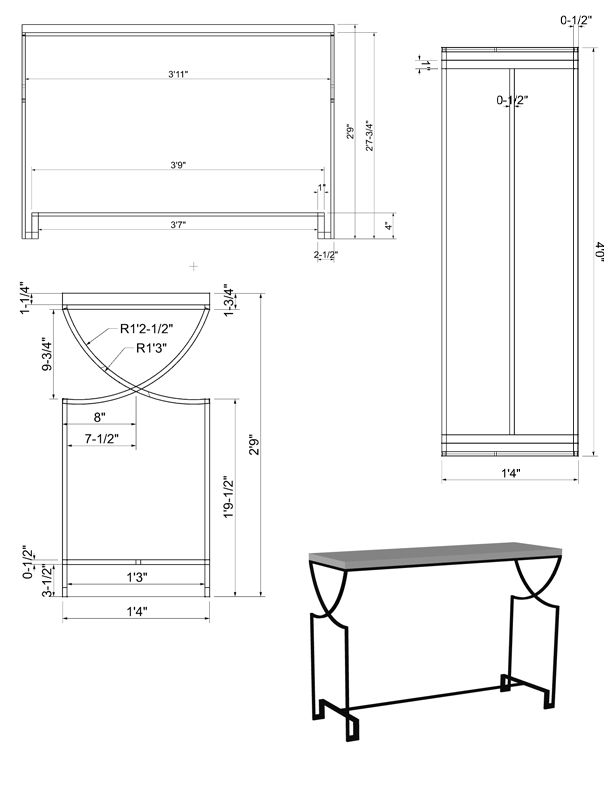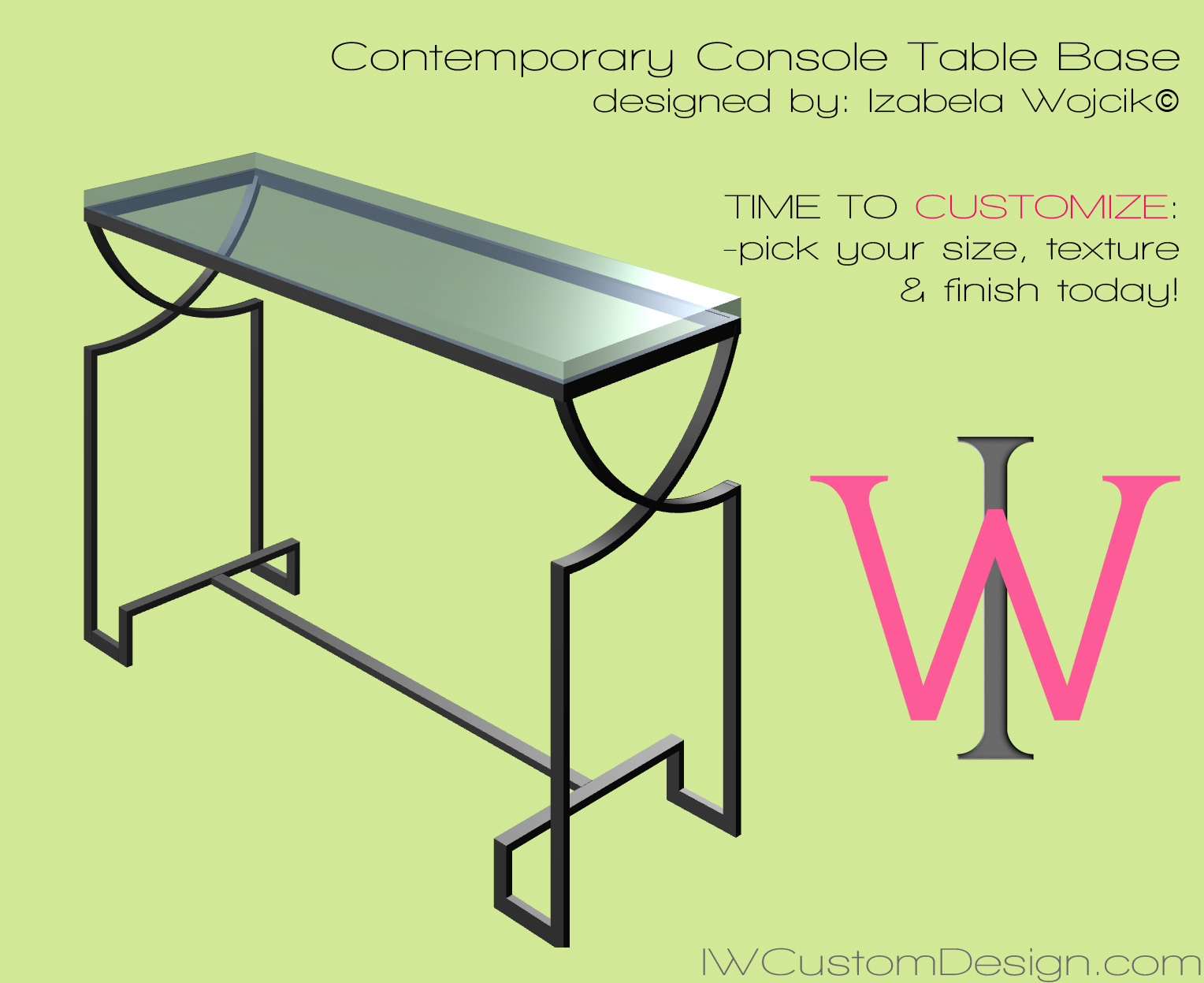 Below is that idea in progress: a perfect contemporary style console table for your hallway...  Designed by me, Izabela Wojcik, and hand made right here in Dallas, TX. This is the stage when a piece is completed and ready for a finish... a nickel plated satin finish looks gorgeous on a design like this one, but so does a simple black. One thing's for sure, a cream stone top would be just the thing for this piece. By the way, can you spot the changes I implemented between the design and the actual fabrication?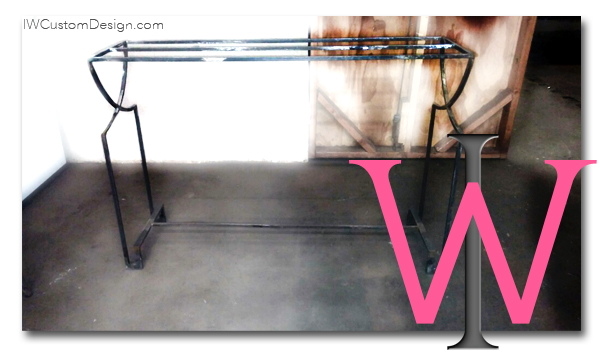 ---
Design takes time and lots of thinking...
A design is pretty easy to create, in theory.  You may have a brilliant idea in your head, but once you sit down to actually turn your brilliant idea into realistic proportions a different story emerges.  Sometimes your idea sketch or thought ends up costing hours of adjusting and re-adjusting scrolls to fit the actual space your'e working in.   Other times doing research for a project may cost hours of work as well.
Example:
A client says,  "I love this door, but I want an eyebrow top"... Unfortunately you can't just put a new top on a door and call it a day... You'll end up with huge spaces on the sides... so... time to get back to the drawing board and start re-fitting the existing design and adding new details... And this is with already existing design... now imagine the time it takes to figure out the design work of the first door:) Try it.  Take a piece of paper, draw a frame, and draw in a design you like... you'll be amazed. (This door design was in inspired by a photo I saw on a Facebook post, although very cartoony, I really loved the essence of it, so I decided to make my own version.)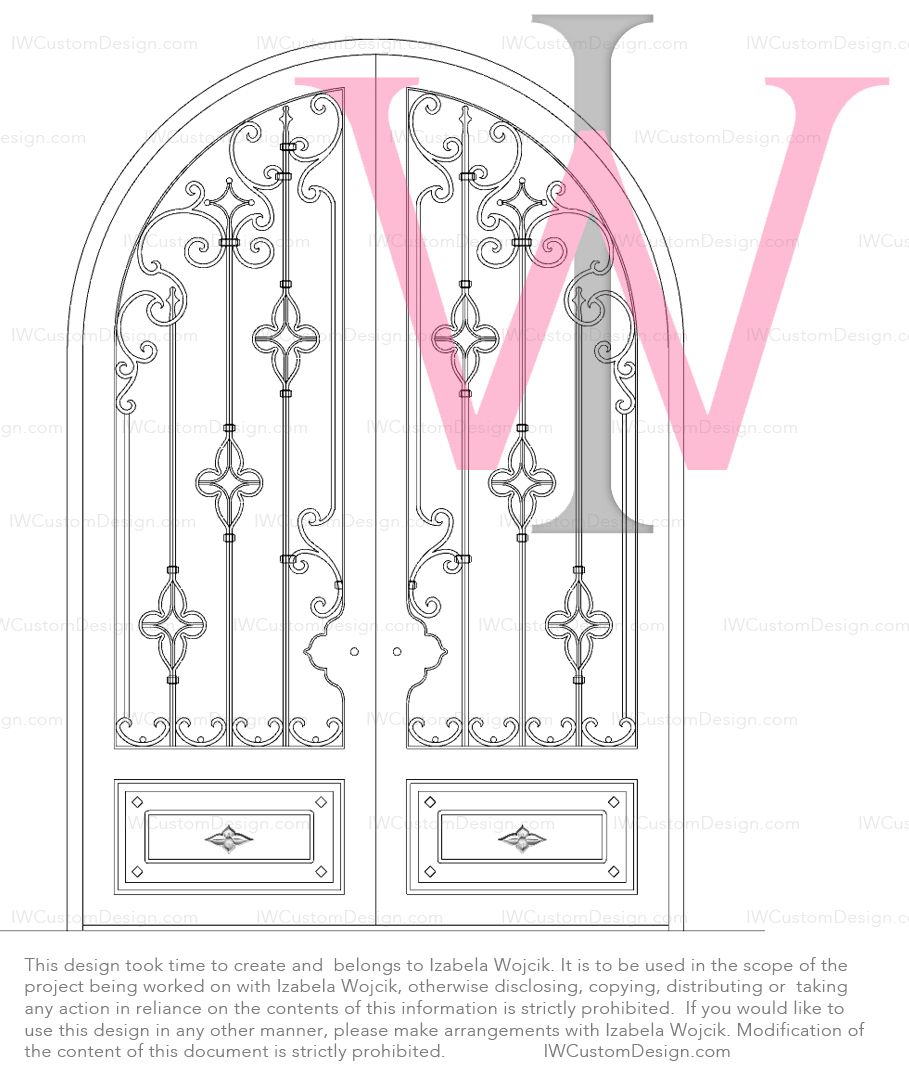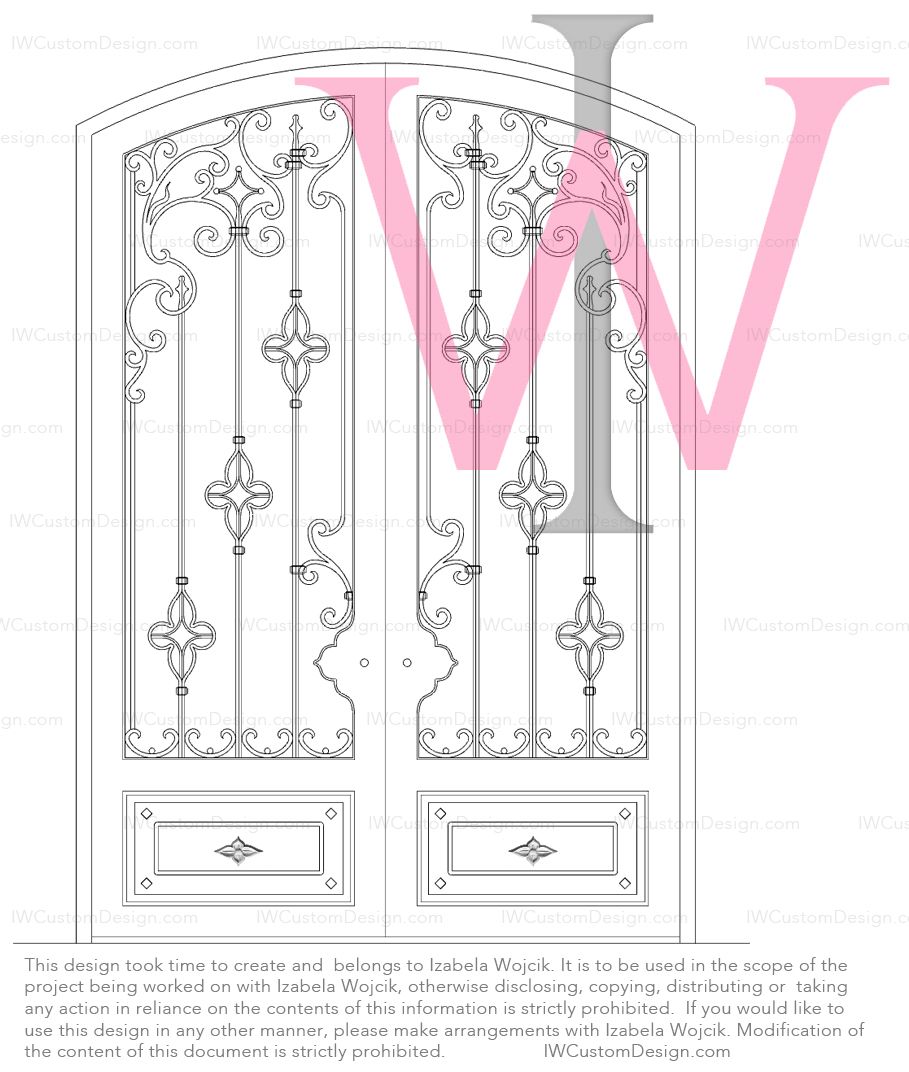 ---
Tom Soltys... best faux finish guy I know...


Impressive, isn't it? Tom did all the finish work and I happened to design the front grand staircase railing, niche grilles, simpler back railing, and the balconies. Got to love Venetian plaster. 
Here are a few other finishes I was blown away by: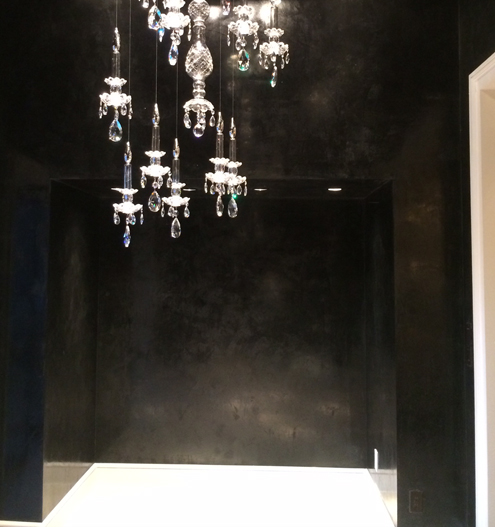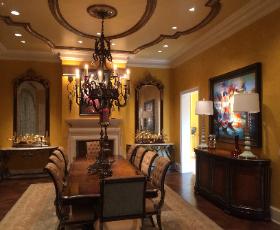 ---
Blacksmithing & the work of a Metalsmith...
I think we all know that custom work exists and that wrought iron exists, and lanterns exist, so do railings, table bases... but how is this stuff made anyway?
Ever tried to bend a piece of metal by hand?  Unless you're superhuman, good luck with that!  Blacksmiths can bend and shape any piece of metal, but they have special tools to accomplish this task, like a forge and bending tools. A blacksmith creates objects from wrought iron or steel by forging the metal, which means that he heats the metal to red hot, at which point the metal becomes soft enough to hit with a hammer and start shaping.   The malleability of the metal lasts a short amount of time too... as soon as several strokes of the hammer land on the piece of steel, it's time to re-heat again because it agin becomes too hard to work with.  Every single piece, no matter how simple or fancy, starts with the shapes I posted below.  Sometimes other materials are used, such as brass, aluminum or copper; each of these has different properties and so different ways of working apply as well.  For instance, a piece of aluminum will never get red hot, it will just liquify... imagine trying to figure out when enough heating is enough:)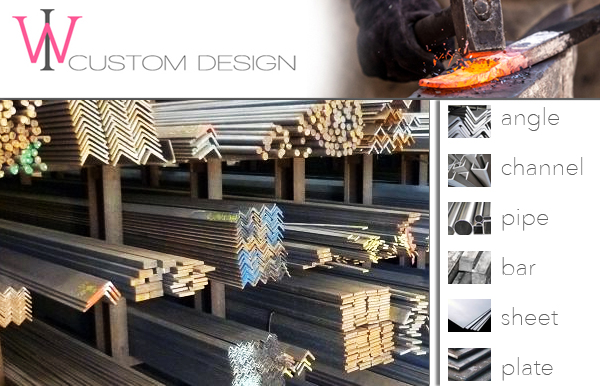 ---
PS.
I got the best complement from an interior designer who used to be a metal fabricator way back when: "I love how your designs make hard steel look like it is soft and easy to shape...not an easy thing to do...!! Well done" Darren Blaess - (All the way from Australia) ...Plus, he was impressed with everything on my website when we chatted later on and added "Is there anything you can't do?"  ...Okay... I'm in heaven... nothing better than hearing good things from people who actually get what you do and how complicated it really is:)
---
Because we all want to customize...
This is one of the least expensive coffee tables I have designed, and pretty much always have it in stock as it is quite a pretty design at a very reasonable price... seen here in raw steel so that you can pick your own finish, and, for fun, I can put a metal band where the stretchers meet with an element special to you.  Scroll down to see what I mean... like a pretty solid brass rosette (only 3/4" wide and 1/8" tall... delicate little ornament) or the adorable solid brass little elephant... how cute would that look? They can match the finish of the coffee table, or stand out with a different finish.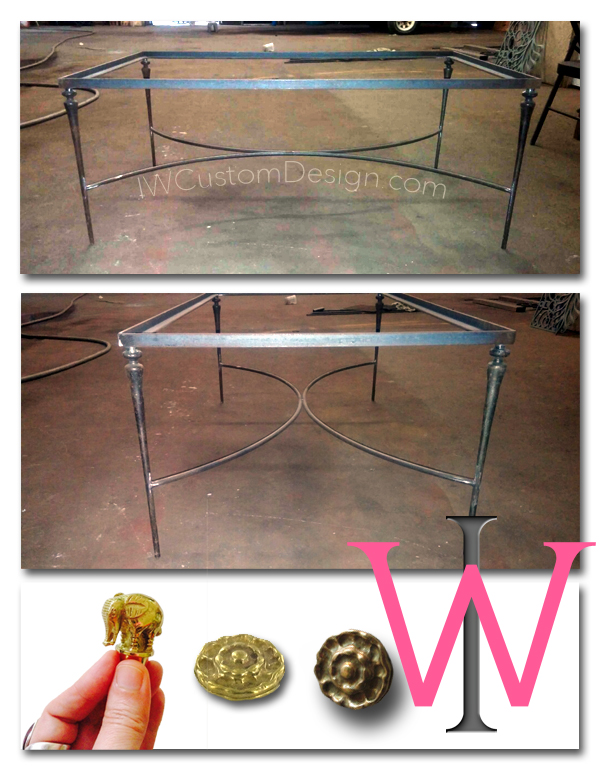 ---
It's all about the finish!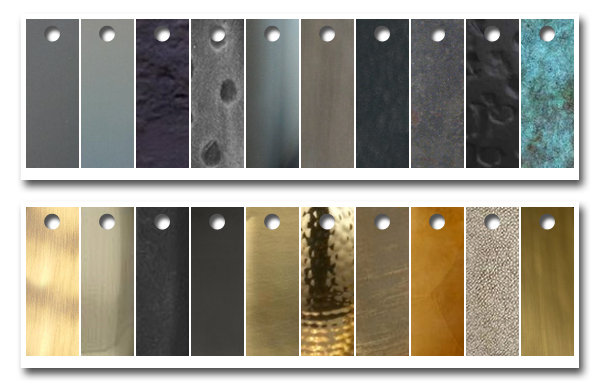 There are a hundred and one ways to finish out a piece of metal... raw, faux, polished, brushed, different chemical patinas, paints... I can just keep going.  But basically, most of the metalwork which looks so obviously like wrought iron is painted... if the metal would be left untouched, it would simply rust after some time, and some clients want exactly that. The way the finishes will look on your pieces depends on several factors; texture or the lack of texture, is it a chemical?, is it a paint?, is the metal sealed, unsealed, raw, waxed or lacquered, again... I can keep going:)  Even the same exact paint will look differently on different metals, plus, a patina will never look the same twice because the chemicals will react differently from piece to piece, and then you have to consider what is around the finished piece as the colors of your walls, floors, and the time of day will change the way the colors look as well.  Even the finishes above will look completely different on different computer screens.
Bottom line, just like each hit of the hammer, each finish is hand made and no two will be exactly alike, and that's what makes custom pieces special and like no other.
---
© Izabela Wojcik

  All Rights Reserved.  First things first:) You do not have permission to use any of my (Izabela Wojcik) designs without written consent.  
I will be happy to sell you my hard work or even design new pieces, which you can take to any metalworker or I can quote them for you as well; your choice.  I absolutely love custom projects of any kind really... I've acquired a lot of fun skills over the years and love to use them all... nothing better than scratching your head and figuring out exactly how something will be put together and accomplished.  Recently University Park's interior designer Ann Tyler said:

We have to collaborate on more projects... you are so intuitive.

 
What you will find here:
metalwork

: interior and exterior: drive, walk, front door gates, fences | fireplace screens and tools | interior and outdoor lighting: gas and electric chandeliers, fandeliers, sconces, ceiling mounts, pendants | interior and exterior railings, circular railings, grand staircase railings, back railings | hardware: pulls, door knobs, door knockers, hinges |Tables: dining, coffee, day, console | Church pieces: altar crosses and other decorative pieces | designs in all styles: French, Spanish, Mediterranean, Organic, Contemporary, Modern, Traditional, Craftsman, Rustic, Southwestern, European, Transitional, Midcentury, Industrial, Eclectic, Gothic, Classical, Formal, Art Deco, Art Nouveau, Baroque, Byzantine, Classicist, Neoclassical, Renaissance, Colonial, Regency, Tudor, Victorian, Rococo, Exotic, Modernist, Religious and what ever else you can think of.
art

: sculpture | paintings | glass art | prints | doodles |graphic art
miscellaneous projects

: As I mentioned, I love custom projects, and sometimes they fall outside of my normal scope of work, which is totally fun from time to time... like designing a part of a baby room or playing around with

CNC

 machine.  If you have an awesome idea but don't know how to get it done, I most likely will be able to help you or get you to the correct people. 
so think outside of the box...

 just because you don't see it here, does not mea that it can't happen.  I function in all styles and materials... there hasn't been a project I've not conquered yet...  that's the beauty of custom work... anything, and I do mean anything, can be accomplished. 

 
---
Secret #2:
Builders know about building homes, designers know about designing rooms, I know about designing metalwork.  I can't design a room... well, I could, but probably not as well as an interior designer. A builder can't design or fabricate metalwork... well, he probably could, but he wouldn't do as good of a job as I would and that's a fact... just doesn't have the experience.  An interior designer can't design a home... well, again, probably could, but would that be the best choice and would that home stand for a long time?  See what I mean?  Picking a photo from a book, magazine, or a website is not exactly the same as knowing how metal works, what you can actually do with it, or re-designing it to work with your needs, and certainly isn't the same as starting from scratch:)  Out of the many hundreds of builders, architects, decorators and designers I've met, there have been a handful who actually did design their own metalwork, and those were just as fun to work with as the ones who stuck to what they did best. Basically, I am here to make your [client, designer, architect, builder, landscape designer] life easier, and your [architect, builder, landscape designer, interior designer, me] is there to make your life easier... depending on how many people you need in your life for a particular project:)
When it comes to decorating your home, a general rule is as follows: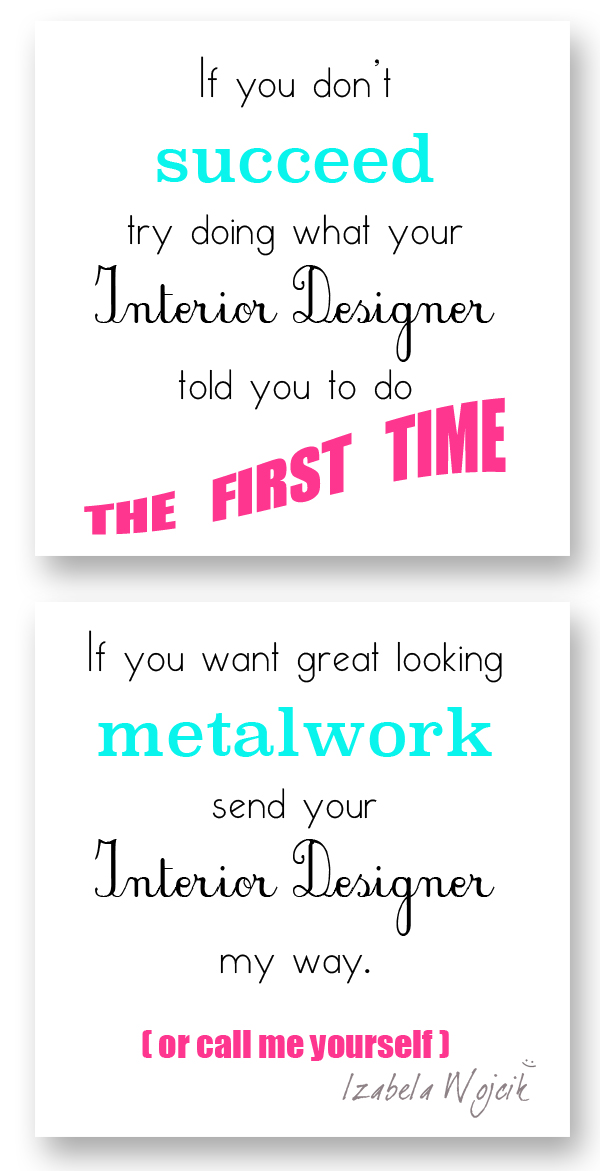 ---
Support your local Community Colleges...
In about ten more days I will be in school again... well, sort of:)
It is my opinion that we should all support our local community colleges, one way or another, and so it's that time of the year... I will be giving a presentation to Mrs. Anita Watson's class, aka Dallas' future interior designers, at El Centro College in Dallas:) Can't wait! 
---
English Style... yes please!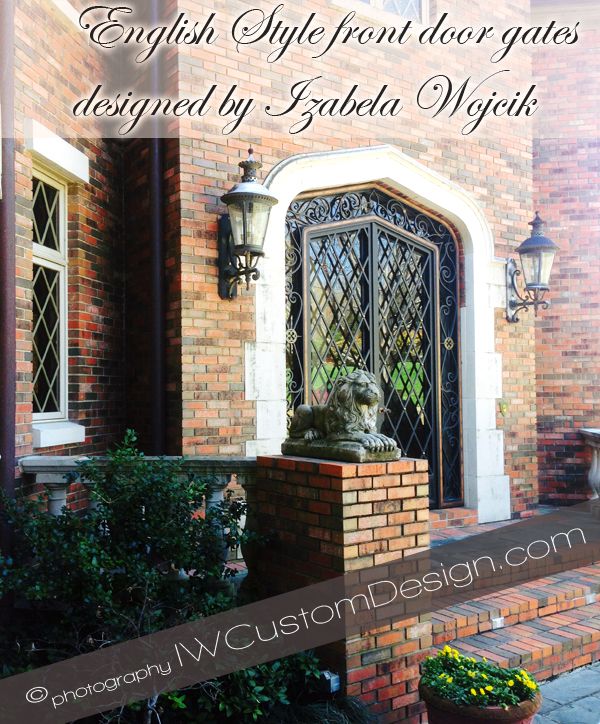 I'm so in love with these wrought iron front door gates... lots of copper and brass details as well... designing them was a blast.  The very lovely English style home has a spectacular view of White Rock Lake in Dallas and the owner knows a thing or two about metalwork as well, so it was double the fun.  I sooo would love to design English style gas lanterns for this home as well, but I think these French ones have a very special place in the owner's heart... but hey, a girl can dream, wouldn't you agree?
Fun Fact: I've had the pleasure to be included in a story written by the wonderful Shari Goldstein Stern for the White Rock Weekly, plus a few other places... talk about a blast!
---

Don't you find that sitting at the Doctor's waiting room can actually be productive?  Look what I found!  It's still being worked on, but once it's all complete, you can see the Art Deco style front door lanterns I designed for the building.
Support 508 Park!
Since the acquisition of the building in 2011, the history of 508 has been and is still being researched to this day... the archives stretch from California to Louisiana, to New York.  This architecturally - significant Art Deco building contains a multifaceted history of intersecting histories; from Warner Brothers, to the great blues players such as Robert Johnson.  Now the building is not only being restored, but being restored in the best of ways... From the Stewpot Open Art Program, which nurtures the artistic talents of homeless and at risk individuals, to the 508 amphitheater, where blues artist Larry Lampkin and his band took stage, to the fully functioning recording studio, just like in the old days, which will be used for both recording and educational purposes, to the gorgeous bronze sculpture wall, inspired by the history of Dallas up to the mid-1930's, and created by my friends and the most wonderful couple, Brad Oldham and Christy Coltrin, to many more fabulous venus and ideas... just have a chat with Pat Bywaters... he'll tell you all about it.  Check out the fascinating history and the projects which are being currently worked on at 508 Park Avenue in Dallas, and show them your support by donating to this wonderful cause.
---
 Elegance...
Check out these gorgeous, solid bronze and heavy as they get, stretchers I just finished for Matt Rzechula of  Sabella Carved Stone in Dallas. They will fit between hand carved stone legs of a piece of furniture he made for a client in Dallas... will post photos once I get them:) The designers were looking for a dark look to contrast the stone and asked for the pieces to look as if they were quite old.
---
And just for fun, here's what I got back from the foundry... yea... This mess was turned into the beautiful pieces they are today:)
---
Selling your home?
Looking for a great place to start for home staging?  Start with the Real Estate Staging Association, aka RESA.  Karen Eubank of Eubank Staging & Design is super helpful and very kind as well, so have a chat with her, I'm sure she'll get you to the right people, or maybe she'll even be the one for you:)

---
Fireplace Screens... we all love them...

The problem with fireplace screens is that they tend to come in a one-size-fits-all option. If you ask me, there's nothing worse than a screen which doesn't properly fit the fireplace opening... well, maybe a few other things, but, you get my point...
And even if you can find THE one you absolutely love, like one of my contemporary designs pictured above... maybe you'd prefer a built in option, or a tri-fold fireplace screen, or even a tri-fold with a door... and what if brushed steel or nickel plating doesn't suit your home, what if your home needs an antique bronze finish? ...and don't even get me started about the matching fireplace screen tools:)
Custom metalwork to the rescue! If it can be thought of, I can make it happen and make it look fantastic as well:) Hope to see you soon!
---
Chandeliers...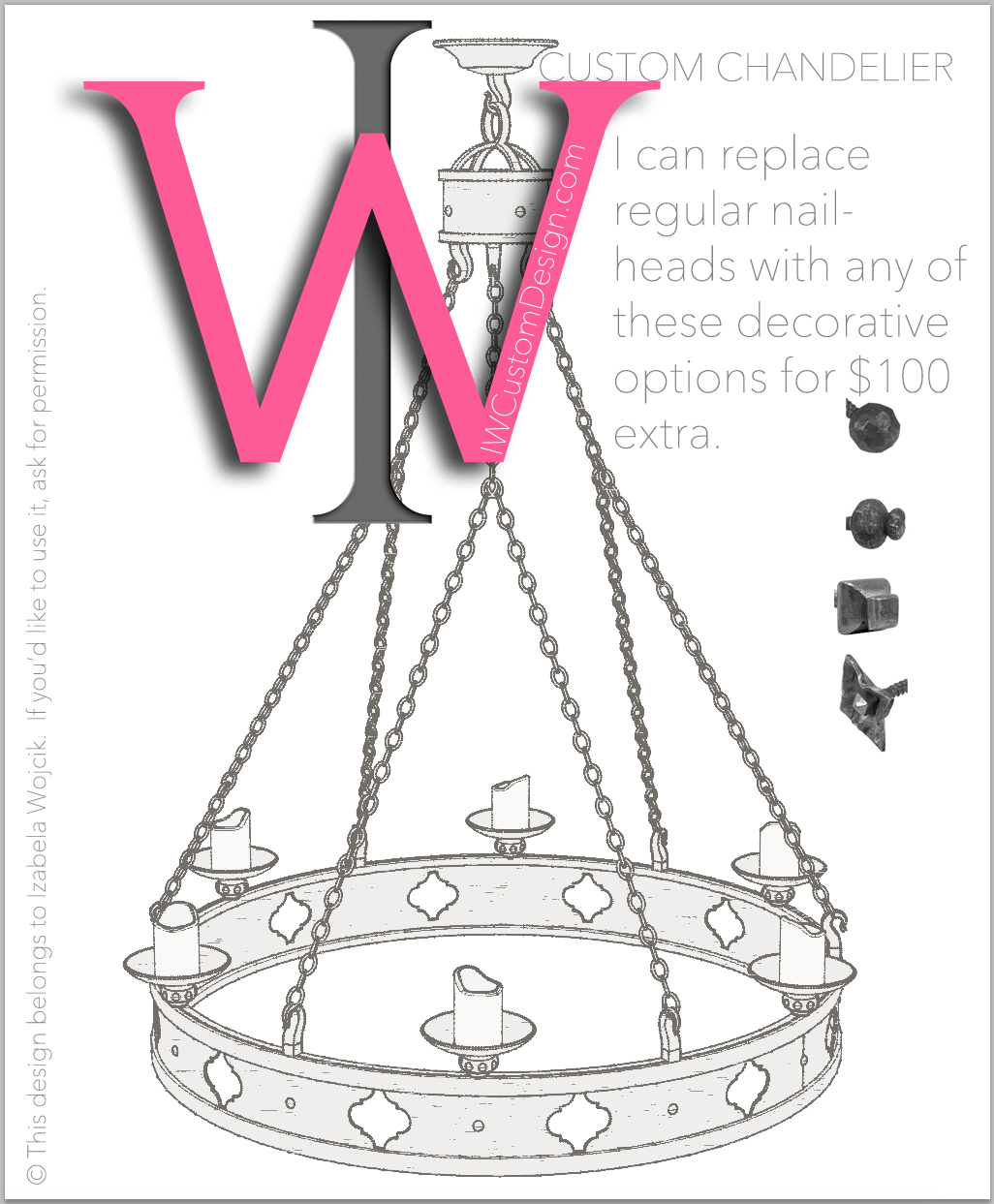 When someone calls for a two tier, super fancy, chandelier which is obviously out of their budget, you can say "sorry, I can't do it" or, you can ask what their budget actually is and design something that will work for both of you:)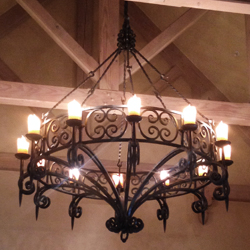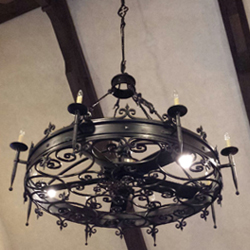 Ps. if you'd like any of these chandeliers or fandeliers, in any size, color and texture, let me know.... or I can design you one from scratch.
---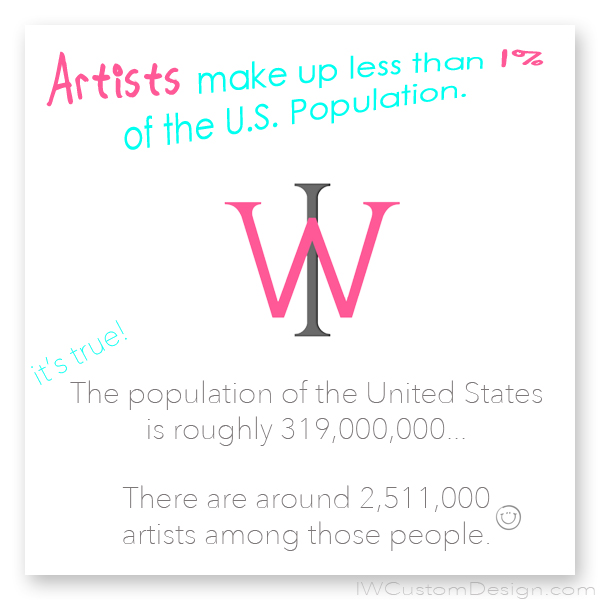 Act like you're special, because you are:)
Some people treasure artists, others take them for granted, but just how many artists are there anyway?  Turns out that less than one percent of the population are artists... amongst those are good artists and bad artists.  So if you're a great artist, I have one thing to say to you: Act like you're special, because you are:)  Think about this... even though artists make up such a small amount of the overall population, they make some of the biggest impacts out there.
Fun fact: Artists also have a different way of looking at the world around them, instead of seeing objects, like most humans tend to do, artists see curves, shadows, and colors.
I am an fine arts artist, a designer, and have to be able to engineer the pieces I design as well... I wonder what the percentage of the population I fall under... (wink)
---
Did you say branch hanging from the ceiling?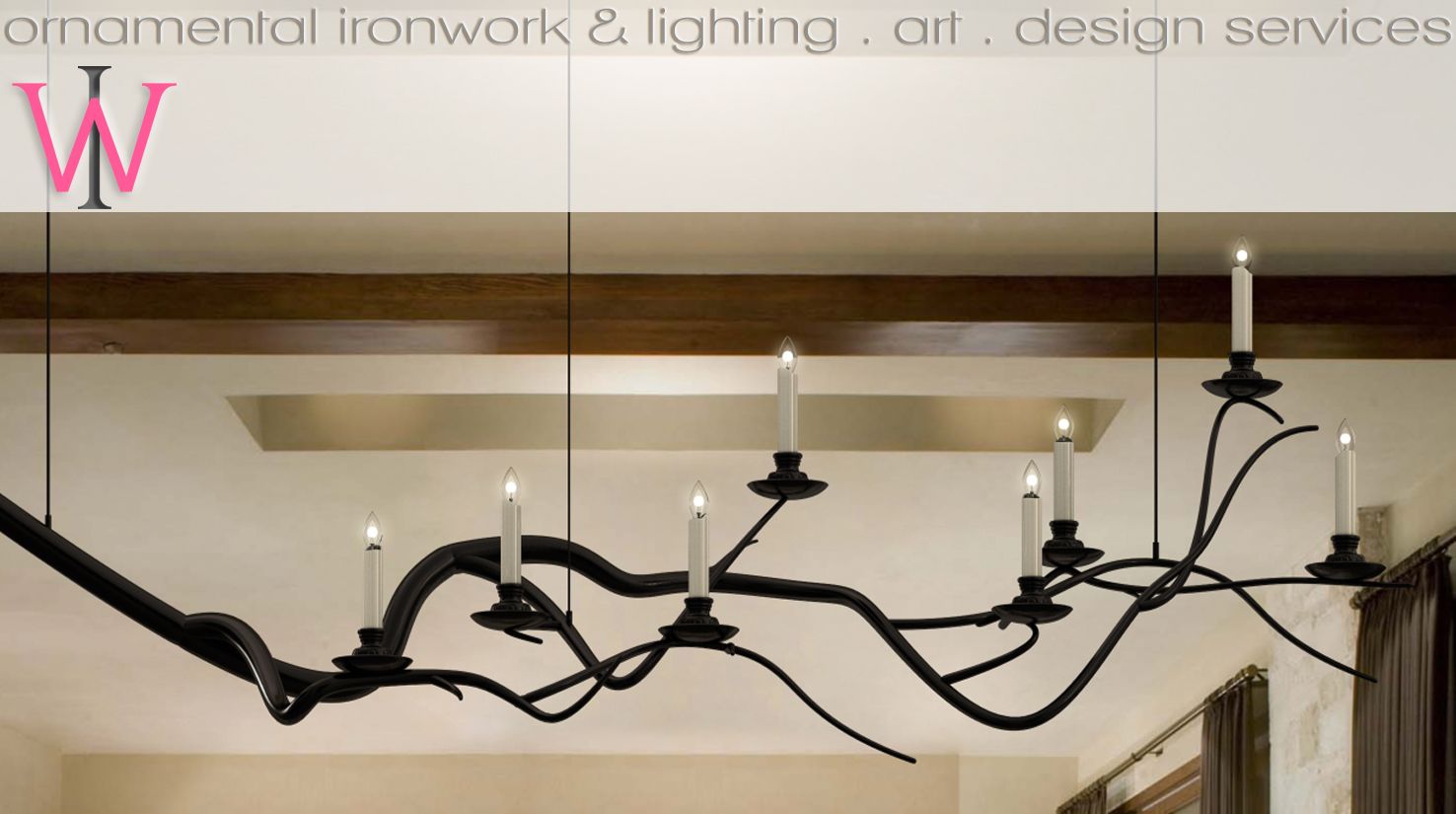 Looking for something contemporary, perhaps a bit unusual?  A metal branch light fixture might be just the thing for you.  I actually put little small LED lights all over the one at my home, but here's another option to consider.  If you have an idea for a design in your head, let's talk about it... I can make it happen:)
---
Glass is ART...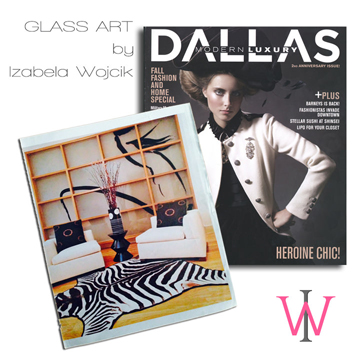 I was commissioned by Dallas' interior designer Alicia Connolly to create this piece for one of her clients.  It is made up of sixteen pieces of heavy glass by a process of engraving and painting, which were then inserted into built in shelves, in essence, turning the clutter of shelving into a clutter-less piece of art.  This was the perfect solution.  The home was later purchased by Terence Newman, who played for the Dallas Cowboys at the time, and asked me to come up with a similar look since Alicia's client took his glass art to his new home.  Fun little piece: Terence was interviewed by Channel 8, and whose name comes up?  That was sooo sweet of him:)
---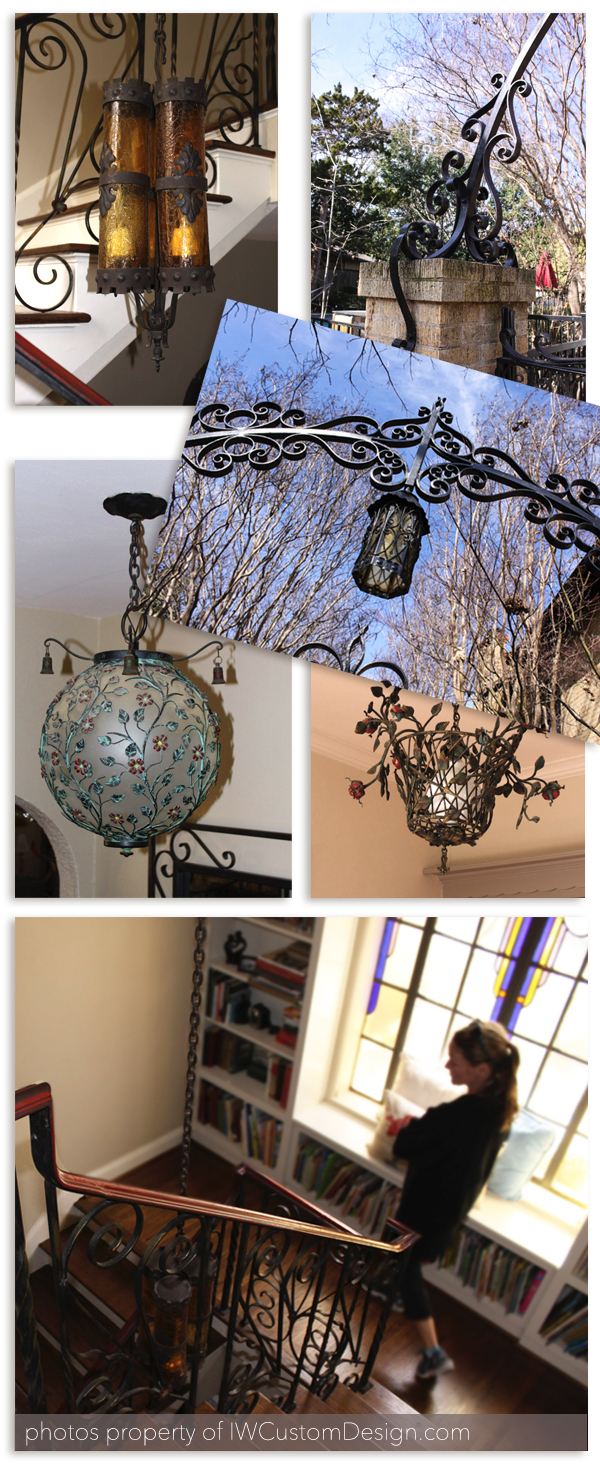 Historical Lakewood Residents:
If your'e looking for someone to help you out with that Charles Dilbeck or Clifford Hutsell project... yes, I'd love to!  
Lakewood homes have so much charm, plus, each one is special in its own way.
I've designed quite a few pieces in my day which matched missing metalwork and lighting from these historic homes.  It's just so sad that so many are missing... so please, please, restore your treasures, do not throw them away.  My guys would love to get their hands on existing ones as well as custom forge new ones:)
For those of you who are interested in these historic homes, here are few people to talk to: Madeline Boedeker is Hutsell's daugher and loves to chat about her famous architect father. Jeff Fairey, who is a builder, is very familiar with the architecture of the Hutsell homes... Here's a great story to read.  If you don't know Candace Evans from Candy's Dirt, you should put her on your list.  Significant Homes would be another good place.  And let's not forget Preservation Dallas... very cool people and a great deal of help.Brian Boyd lives in Hutsell's former residence (one of three... just ask anyone in the neighborhood:)  Molloy Mirror and Glass is a great place to visit if you're restoring any original pieces.  Jim has everything under the sun. 214.826.4452  2635 Floyd Street. Royal Touch can help with chandelier restoration; rewiring etc...  Dan Thacker also seems to be a bit of a historian. Jeanette Crumpler, AKA The Tomato Lady, is knowledgable about all things Lakewood, and according to Jeanette the downtown Library has files, photos, etc. that are part of the Hexter Title Company files that were found in a garage in garbage bags from many of the Dines & Kraft projects files. Dines & Kraft built many of the Hutsell homes and others in the Lakewood Neighborhood association area and their companies were Westlake Park Estates and Country Club Estates. Also they built homes in Munger Place and other areas of Dallas. Rains Kyle seems to know a thing or two.
---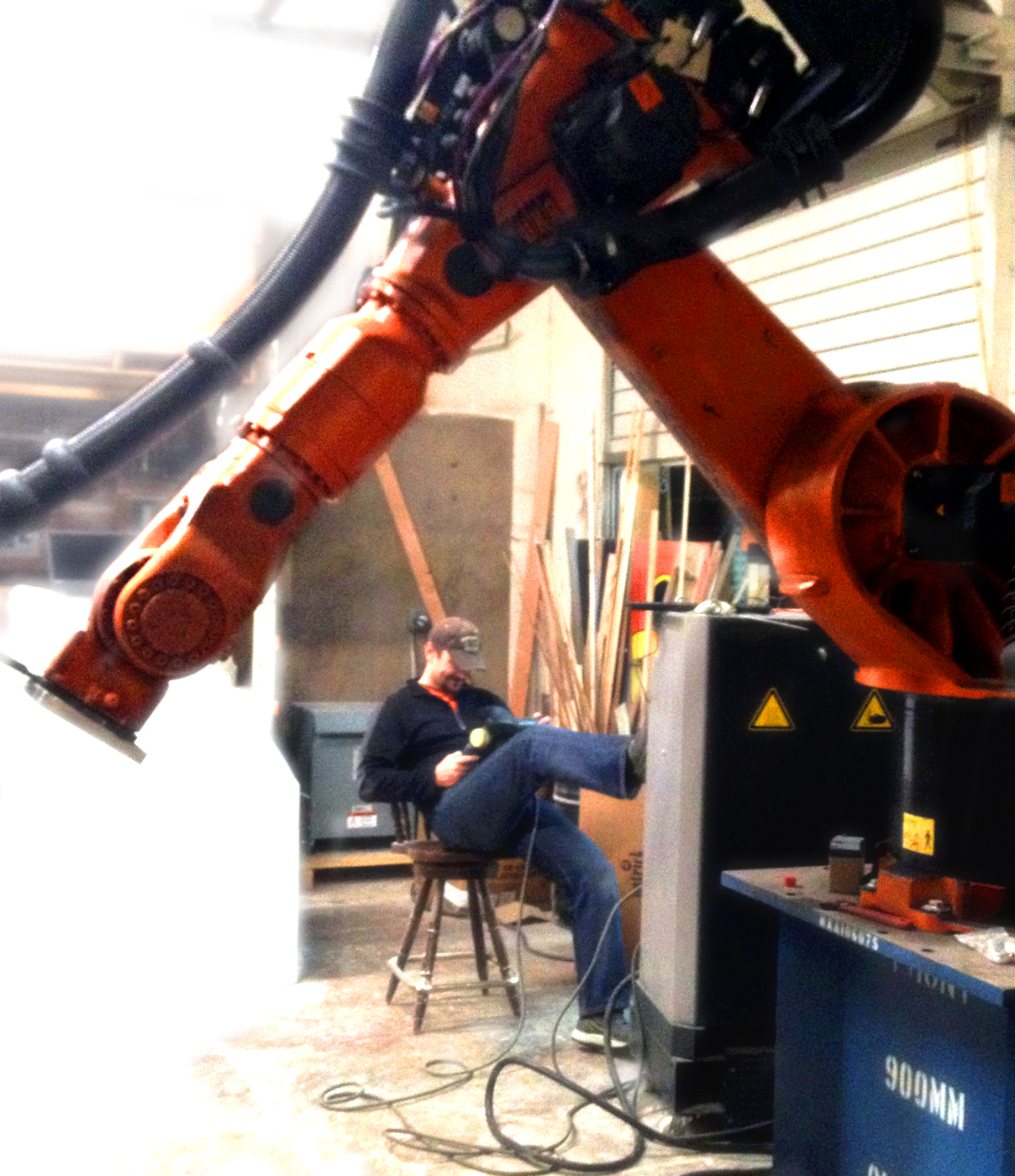 Super excited about my CNC Kuka Robot toys!
and so is Laimis, as you can see, there is a huge smile on his face!Check out the first video:)
I finally got two of these delivered and the grin on my face is beyond ridiculous! Laimis and Mitch are already talking robot wars and I've considered a Kuka roller coaster as well. (JK... but... maybe???:) In any case, my world is the world of art, architecture, custom ironwork and lighting, 3D virtual reality and just being creative, so a Kuka robot was the natural next step, of course! ...and we're not talking about cutting only on one plane... we're talking carving an entire dog or what ever... So... what am I going use these puppies for? Well... here's my list so far:
1. An architect wants to do a scaled down model of the home he's proposing to his client or simply wants to do a very custom window sill sample to take with him to an existing home and see if he likes it.
2. An artist makes a sculpture, which is scanned into a computer... the software shaves a certain depth off the sculpture (like the peel off an orange) and the robot recreates this in the real world, but now it's 9' tall instead of the 14" sculpture we started with and the artist can go to work by putting back the artistic 'orange peel' back where it belongs... you know, because a sculpture needs the human touch. Talk about saving time and pain of making all that armature. Then, it's time for bronze casting.
3. A guy wants a sculpture in his backyard so that his kids can ride a funny lizard, but isn't willing to pay $60K for it... and doesn't even really care that its cast in bronze in the first place... Well, again, create a sculpture and scan it in, or just create something cool 3D to start with and the robot reproduce it in the real world... in resin... done!
4. A carpenter wants to create very fancy cabinet doors for his client, lots of carving involved... no problem! These are only a few things I can do with these robots... if you have any other great ideas, I'd love to hear from you... comment below and lets see if you can blow my mind:) 
---
Because scrolls are always beautiful...
One of my formal French style ornamental ironwork railing designs: LOVE? I do:)  
---
For the love of clay...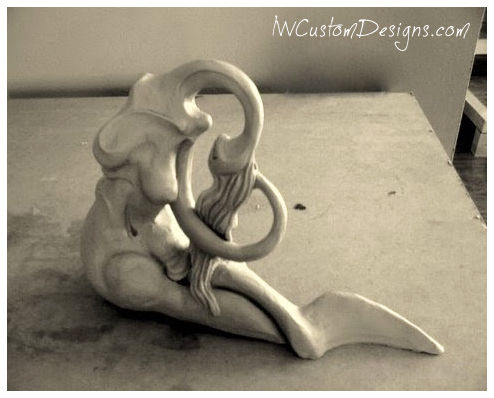 One of my very favorite sculptures.  I just love playing in clay...
---
Because the beauty of organic shapes makes you take a deep breath...
Tree branch walk gate design... that was a fun one; creative juices flowing!
Imagine wrought iron with a deep bronze finish, almost black, OR go totally contemporary with a nickel finish and put it inside a home.
---
Art Nouveau... so inspirational...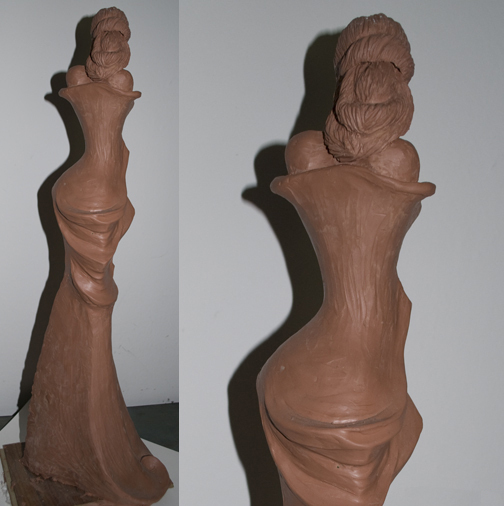 Work in progress: I'm very much in love with Art Nouveau, and this sculpture certainly has a little taste of the style.  I'm thinking one of these days I should sculpt a reclining version.
---
The soft side of metal...
 I designed these formal French style lanterns... the body came from an existing design, which I softened for a softer look, and designed the brackets to fit the areas.  Gas lanterns are very pretty, wouldn't you say? 
---
Loving RDD...
My very favorite French Classical home design (design, more than execution... I wish it was made of real stone... that would have been the cherry on the top) belongs to Architect Richard Drummond Davis and is located in Highland Park, Dallas, TX.  It's just so pleasing to the eye, don't you think?
I actually got to work with Richard on Regency Row Homes at Ritz-Carlton in Dallas.  I designed the awnings and lanterns, and co-designed the doors with the wonderful architect that he is.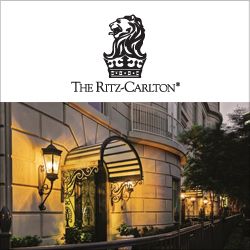 ---
A few fun table designs...
And talk about contemporary, here are a few console table designs I came up with lately, so let's customize.  Pick your color, texture, and finish... I'll be happy to make you exactly what you're looking for.  Coffee tables, console tables, day tables, side tables, dining room tables, tables, tables, everyone needs a table... or two.

No worries... if fancy is on your mind, that can happen as well...  two old world side tables anyone?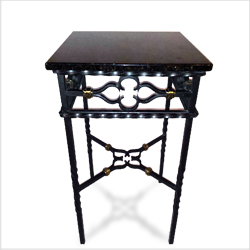 ---
Because Dallas Rocks!
Dallas is kind of great, wouldn't you agree?  Lots of great characters spend their time around here... amazing interior designers, architects, artists, and other fabulous people I've met and worked with... so much fun!

---
Extra, Extra... Read All About It!
 I have to admit, it's fun seeing your name in a magazine or the Dallas Morning News:)  Here are a few... I'm not going to junk up the page with all of them... hehehe.
   
  
  
---
Quatrefoils are the best...
I absolutely adore the way quatrefoils look in iron, so naturally this is one of my very favorite Gothic Style gate designs...  This would also make a fabulous wrought iron front door... loved working on it:)

---
Formal French... enough said...
I designed most of the ironwork for this home in Dallas.  The Formal French style main staircase was gorgeous... just loved designing that railing; solid brass acanthus leaves hugging the beautifully hand forged scrolls... it was so very impressive.


---
A little bit of Gothic...
Hey, hey... pendants are pure fun! A design I put together... imagine it in rich, antiqued bronze:) Love custom-work!

---
Drive Gates to Heaven...
Okay, seriously, tell me you wouldn't have a blast designing this drive gate... Just try it:)

---
Meet Henry...
 
Say Hi to Henry the tortoise!
He's a fun fella to keep in the backyard for sure... Doesn't require food or water, just a little bit of play time;)
Henry was a fun sculpture to do as I do not sculpt animals really... But, someone asked, and I was up for the challenge!
Oh, if you're an artist, go see Mitch at BITY Mold Supply for sure... he was amazing at not only helping me choose the perfect rubbers for the mold, but also helped me make it and was an awesome friend, and still is to this day.
Also, if you are an artist who does large scale sculpture... A bit of fun news! I have two CNC milling robots which can knock your armature out in no time what so ever! Just sculpt your piece in a small scale, or build it in virtual reality, sell it to your client, I will scan it in, and can take some of the skin off so that you can sculpt on top or not, and mill that puppy for you as large as your little heart desires. Most importantly, you'll save time, money, and there will be no surprises... What your client ordered is what he or she will get. ...you know what a pain in the butt it is to translate a small sculpt into 12'... And because I support the arts, I give super deep discounts to artists.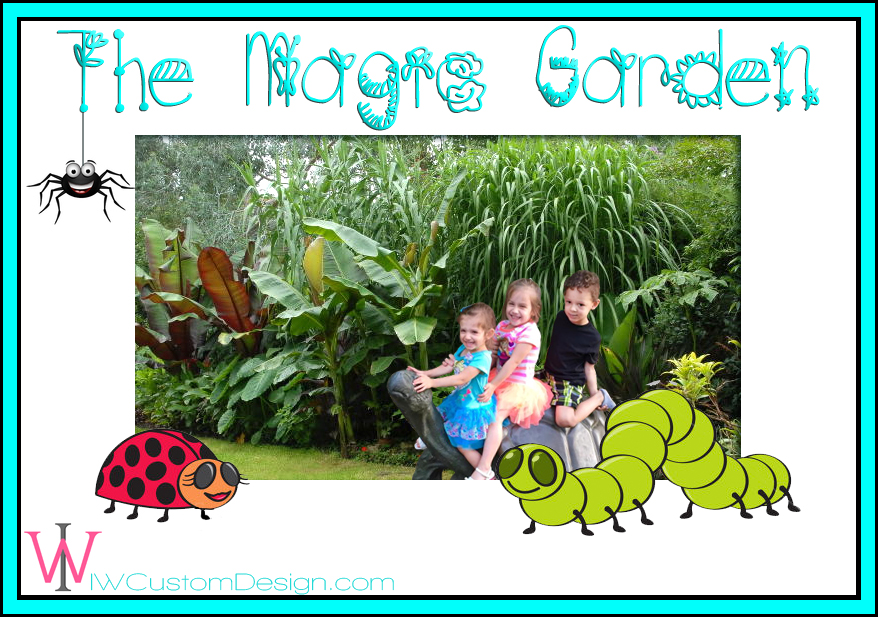 My very good friend Mitch Rogers from BITY Mold Supply was beyond helpful in creating the mold for this creature:)



---
HP!
The historical Highland Park Village has a little stamp with my name on it now:) I designed the wrought iron brackets which will hold the hanging flower baskets each new spring.  How fun!

---
Oversized Hinges are fun...
Looking for some fabulous oversized custom made hinges?  I'd be happy to help!  Wrought iron, heavily textured, or even antique bronze or copper... what ever you can think of, or what ever I can think of... anything can happen:)

---
Flashback!
  Good old times:) Loved designing this fabulous drive gate.  The scrolls were huge!  The brass was solid!... what else can a girl as for?

---
Twig Gate
Another one of my organic designs.  This one features a twig gate and a little bird on a branch.  Perfect for a wrought iron application.
 
---
Williamsburg Style Chandelier
I designed this giant brass, Williamsburg style, chandelier for University Park courtroom chambers.  It's a giant! 11'... believe it or not.  (Photo courtesy of University Park)

---
Sweet Pea
Sweet Pea... oh yes, little things can be a blast.  Check out this little baby shower trinket.  I sculpted this little treasure and had it cast in pewter.  Isn't it adorable?

---
Lunette Cuteness...
A neat little half circle pendant style chandelier I designed... perfect for a small area, like over a smaller traditional dining room table.  Great for Lakewood homes as well.

---
Gothic... I'm loving it!
Designing a Gothic style chandelier is always fun.  This one features two tiers and a lot of great detail.

---
Contemporary... yes please.
This is a design I had a bit of fun with... you can probably buy something like this off the shelf these days, but if you're ever looking for an oddball size, let me know.

---
Awesome doesn't describe this... what's a better word?
This is a fireplace mantel I designed for Trammell S. Crow. I've been told it looks like H. R. Giger... agree or disagree?

---
A few of my doodles / computer graphics:
---
Crosses...

I love crosses, so when Jon Buell found me (we have worked together in my other lifetime) I was super excited.  Check out the design he came up with, which I turned into a 3D version, and my guys hand forged once it was approved.


Here's the finished piece... isn't it lovely? I was just watching a show about Highlanders and thought it would fit right into the scenery of something long forgotten... Old and worn by time... just like Jon had imagined:)
 
---